In a previous post, you've learned how to rename tabs in Chrome. The same goes for this post but instead of creating rules using standard syntax, you can easily customize the title of any tab right within your browser's toolbar. The only downside of this method is that you cannot use it to rename website tabs with constantly changing titles (ex. Facebook). On the brighter side, it's highly useful for renaming websites and blogs with lengthy tab titles.
How to customize the title of any tab in Chrome
First, download and install a free Chrome browser extension called "RenameTab".
After installing the extension in Chrome, it will add a shortcut icon to your browser's omnibar (see image below).

So what's next? Just select the tab that you wish to rename.
Click the shortcut icon for RenameTab and enter your desired tab name or title on the popup box. When choosing a title for your tab, it would be best to keep it short and simple.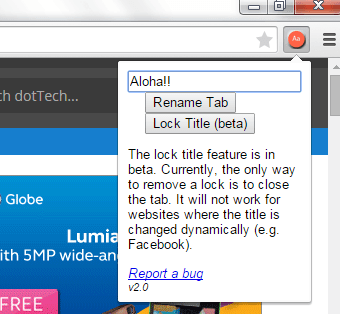 Click "Rename Tab" to confirm and that's it. You can immediately notice the changes.

Just reload the page to restore the tab title back to normal.
How is this extension useful? Apparently, it helps keep your tabs organized. For example, you can use it to identify web pages of similar names. You can also use it to easily recognize websites with odd or lengthy tab titles.
Related Posts