TabNavigator is a Firefox add-on, covered in a previous article, that adds Alt + Tab navigation to cycle through open browser tabs with. You can also cycle through Google Chrome tabs with a hotkey much the same. Add the Recent Tabs extension to the browser to cycle through Chrome's recent tabs with a keyboard shortcut.
Open the Recent Tabs page to add it to the browser. Then press the Customize Google Chrome button at the top right of the browser. Click Settings > Extensions and press the Options button beside the Recent Tabs extension to open the tab below.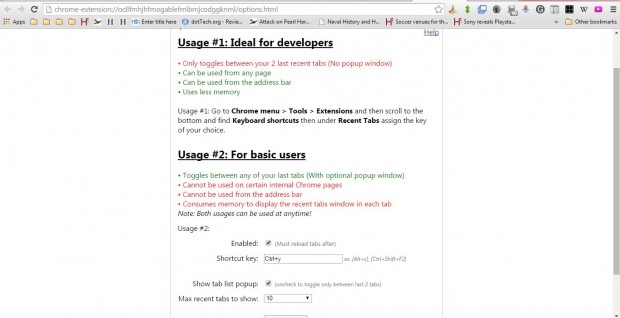 There you can now set up a hotkey to cycle through the tabs with. Enter a keyboard shortcut such as Ctrl + y in the Shortcut key text box. Then press the Save Settings button at the bottom of the page.
Then restart Google Chrome, and open a few website pages. Press the Ctrl + y hotkey, or the one you entered, to open the Recent Tabs popup window below. That shows  your open page tabs, and you can cycle through them by pressing the hotkey. Note that the popup window lists most recently open page tabs at the top.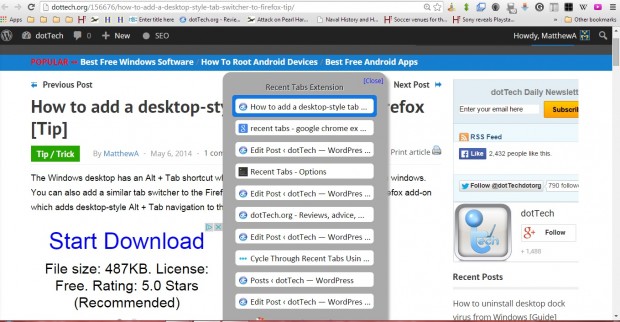 You can alter the number of page tabs included on the popup window from the settings page. Click the Max recent tabs to show drop-down list to select an alternative number. Select Show all tabs to include all your open page tabs on the popup window, and press the Save Settings button.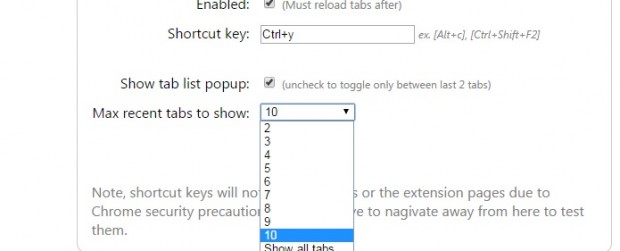 This should be a handy extension if you open lots of page tabs in Chrome. Note that the extension won't work on some of the browser's internal pages, on the New Tab page or from the address bar.
Related Posts