Hashtags are great for tracking and promoting content. In Twitter, you can follow tweets from certain users but you cannot directly follow hashtags. The closest thing that you can do is to save your hashtag searches. If you want to get the latest updates on Twitter by hashtags, you'll have to browse your saved searches first. You also won't be able to receive any email alerts whenever there are notable tweets that are related to your hashtag.
If you want a more efficient method for tracking Twitter hashtags, read the rest of this post.
How to track Twitter hashtags and get email alerts
First, you will need to log in or register at "Hashtagify.me", a free online tool for searching and tracking the best Twitter hashtags.
Once you're logged in, make sure to verify your email address. Check your email for the verification link.
After verifying your email address, go back to Hashtagify.me and then enter a hashtag that you would like to search and track. Enter the hashtag on the search box. You don't need to append the # symbol. For example, if you want to follow the hashtag for Mobile World Congress 2015, just enter MWC2015 on the search box.

Hit "Enter" to confirm.
After which, Hashtagify will display the results for your hashtag. On the results page, you can see the top recent media for your hashtag. You can also see the all-time top 10 hashtags that are associated to your hashtag. That's not all. You can also check for other important details that could help you evaluate the popularity and performance of your hashtag. This includes your hashtag's top influencers, wall and usage pattern.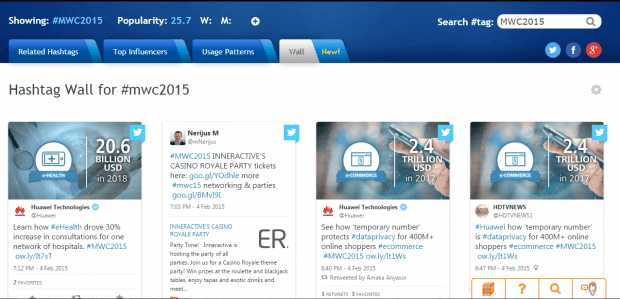 If you want to get email alerts, just click the "Related Hashtags" tab and then scroll down past the chart. Look for the "Active breakout alerts for" section and then click the "Activate email alerts" button.

That's it. Whenever there are active breakout alerts for your selected hashtag, you will immediately get an email alert.

If you want to get an overview of your hashtag stats, just click "Hashtags" on the top navigation bar then go to "My Hashtags".
That's it. You're done.
Related Posts