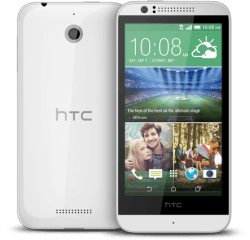 There are a few different smartphones under the HTC Desire name and none of them are as difficult to find root access as the 510 variant. With that being said, we have found a way to get it done thanks to a kind poster on the XDA Developers forum. If you want to think about installing a custom recovery such as Team Win's TWRP and open up the ports so you can install a custom ROM then you need the tutorial below.
BEFORE WE BEGIN
You need to have a computer or laptop with working USB slot before starting the guide. Furthermore, we recommend only using a Windows PC as that's what the source of the post has used. We cannot confirm the guide works using a different operating system.
You will need the USB cable your phone comes with out of the box.
Make sure the device starts the guide with enough battery power so it doesn't shut down before the flashing finishes. You are not connected to the computer all the time. Therefore, you are relying on the battery power for part of the steps.
You are voiding any warranty you have left one the smartphone by proceeding. Moreover, we are not liable for any damages or loss of data by following our guide.
HOW TO ROOT THE HTC DESIRE 510 AND INSTALL TWRP RECOVERY
Download the unofficial recovery image of TWRP recovery from this link here.
Download the image to the computer. We know it works from PC only. We cannot vouch for Mac OS X or Linux, although neither are officially ruled out. Choose another operating system at your own peril.
Reboot the HTC Desire 510 in fastboot mode.
Connect the device to the computer of your choice.
If you are using windows type CMD and open up the command prompt. Other must open the command line the appropriate way for their computer OS.
Type "fastboot devices" as the first command without the quotation marks.
Important: Change the directory to where the downloaded recovery image is on the computer.
– eg: C:\users\xxx\desktop\recovery folder
Change the name of the image to flash.img.
Open the command window again and type "fastboot flash recovery flash.img"
Boot the 510 in TWRP from the Hboot menu on the phone.
Download the SuperSU binary from this link to the desktop of the computer.
Reboot the Desire phone and transfer the SU binary file over to the internal storage SD card.
Reboot the device in recovery mode.
Choose the 'install' option and upload the supersu-v2.16.zip file in recovery.
Navigate back to the main menu in recovery and choose the reboot system now option.
After the handset reboots once again, it will have the root access.
Source: XDA
Related Posts