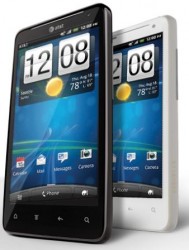 The HTC Vivid is one of the older HTC smartphone that still comes with a design that's modern thanks to being well ahead of its time. many other devices look outdated and some shapes from three years ago you don't see them today. The Vivid, though, could still be in your palm in the streets and people wouldn't know it wasn't released this year.
BEFORE WE BEGIN
You are connecting the smartphone to the computer during the guide. Therefore, you should have a working computer with USB cable. With the USB cable you cannot make the connection.
You are using the command line on the computer so you should have some command prompt experience.
Make sure you have at least half of the battery power before starting the guide. You are plugging into the computer for most of the way so the USB charging will take care of the battery for the most part.
The following guide does void any warranty you have left on the handset. You can only get that warranty back again by returning back to stock Android and locking up the system internals so the stock recovery system is running. With that being said, most of you who bought this one brand new won't have any warranty left anyway.
HOW TO INSTALL CLOCKWORKMOD RECOVERY IN HTC VIVID
Download the unofficial CWM recovery image from this link here.
Download the image to the desktop of the computer.
Extract the folder so you can view the executable file inside.
Turn off the HTC phone.
Reboot the device in bootloader mode by pressing the Power and Volume Down buttons at the same time.
Choose the Fastboot option from the menu.
Connect the smart phone to the computer with the USB cable it comes with out of the box (often used as the charger cable).
Open the Command prompt Window on the desktop.
Type the following command:
fastboot flash recovery recovery-beta2.img
Now wait while the custom recovery image is flashing on your phone.
Wait until it finishes and then disconnect the device from the computer.
Now that you have successfully installed the custom recovery image in ClockworkMod, you can start the guide on how to root the same. Check that here.
Related Posts