When browsing sites using your Chrome mobile browser, you have the option to view the site in its mobile-friendly mode or default desktop mode. However, there's no guarantee that both modes won't contain elements that will obstruct your reading experience. If you want a more mobile-friendly viewing mode with a minimalist layout, you can switch to "Reader Mode". This is a hidden feature in Chrome for mobile.
How to make sites easier to read with Reader Mode in Chrome for Android
To enable "Reader Mode" in Chrome for Android, all you need to do is to type chrome://flags on your mobile browser's address bar then press "Enter".
The URL will take you to Chrome's list of experimental features. Once you see the list, just look for the "Enable Reader Mode Toolbar Icon" entry. You may use the "Find" tool to easily look for the said option.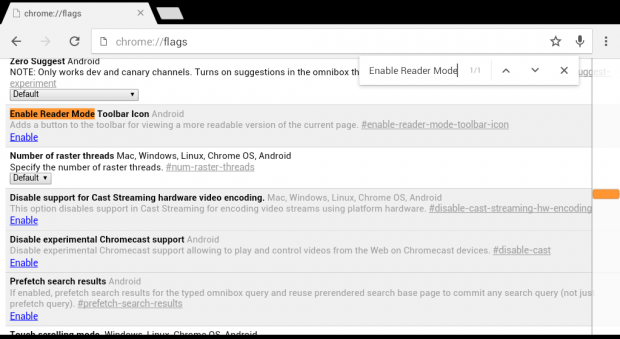 After which, simply "Enable" the Reader Mode toolbar icon and then relaunch your Chrome mobile browser.
After relaunch, the "Reader Mode" icon will be automatically added to your browser's toolbar. So whenever you want to switch the page layout to a reader-friendly mode, just tap the icon and that's it. You're done.
As for Chrome for PC users, the said option is still not available in the chrome://flags section but you can opt to manually install it via Chromium's DOM Distiller.
If you want an alternative with user-friendly options, you can try the "Read Mode" extension for Chrome. It lets you read any content from the web like the way that you do when you're reading a book. No ads, no annoying pop-ups, etc. So go ahead and check it out.
via Good e-Reader
Related Posts