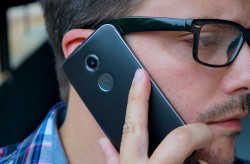 The Motorola Moto X 2014 is a sweet smartphone and part of the most successful trio of devices the "Hello Moto" company has ever made. Of course, the other two in the range I speak of include the Moto G and the Moto E.  While the other two are cheaper, all three won't break the bank and that makes them great choices of unlocking the bootloader and cracking the system internals away from the factory restrictions put in place by the manufacturer. Furthermore, these devices are highly customizable, with a bevy of custom ROMS, custom firmware and root-requiring apps available to install. However, before you can enjoy all that goodness you must have root access. Likewise, you can't have the root access without installing a custom recovery system where you will enter to flash the future ROMs. Check after the jump how you can flash a custom recovery image on your device.
BEFORE WE BEGIN 
You should head to our guide here and root your smartphone first.
You don't need a computer to follow the guide below. However, because there's no computer, that means there's no USB charging to take over your device and make sure it doesn't shut down. That means you want to double check you have enough battery life left before starting the guide.
Check your battery levels by turning on the Moto X and looking at the battery icon available from the status bar menu at the top of the home screen.
HOW TO ADD A CUSTOM RECOVERY TO YOUR MOTOROLA MOTO X 2014 
Head to the Google Play Store on your smartphone and log in to your personal account.
Download the TWRP Manager application. You can only do that by logging in first.
Wait for the app to finish installing.
Navigate back out of Google Play and tap on the icon available from the app drawer. You will need to wait until it finishes downloading.
Scroll down the list and select the device of your choice that matches up with the device in your hands.
The app now takes over and automatically flashes the recovery.
Now that you have the recovery taken care of, you can start flashing custom ROMs made by third-party developers.
Related Posts