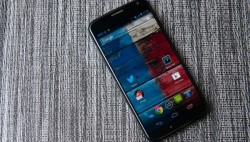 The original Moto X set the smartphone market on fire after offering a highly customizable phone shell with heaps of color options. That's not the only changing this device can do either. By installing the following file on your device, you are opening up the internal system which then allows us to install a custom ROM and break away from the stock version of Android that once reigned supreme on your display. learn everything you need to know about the Chainfire CF-Rooting tool to get the job done after the jump.
REQUIREMENTS
You must have your device running the latest Android 5.0 software update. It doesn't matter how you decided to upgrade the operating system. You can do that installing the official over the air file automatically or by downloading the same and flashing it manually.
You must have the XT1052 variant of the smartphone. Always check your model numbers by turning on the smartphone and navigating to Settings > About Device and then take a look.
BEFORE WE BEGIN
Make sure you have enabled the USB Debugging Mode. You will find that mode from the Developer Options menu.
What if the Developer Options menu isn't available from the Settings menu? That likely means yours needs unlocking. You do that by tapping on the build number seven times. The build number is shown from the About Device menu.
You must have a Windows PC to complete the guide.
You will void any remaining warranty on the device by following the guide. That's OK though, because you can gain the warranty back again by unrooting later. There's a few different ways to get that done, including installing third-party applications from the Google Play store. Moreover, some official software updates also will revoke the root access and return your device back to the stock Android (plus the bloatware).
Install the Motorola USB Drivers by using our link here.
HOW TO ROOT THE MOTOROLA MOTO X XT1052 9 (ORIGINAL) RUNNING ANDROID 5.0 LOLLIPOP
Download the CF-Root file from here.
Extract the package to the desktop of the computer.
Boot the Motorola Moto X in bootloader mode. Press the Volume Up and Power keys at the same time and then let go.
Connect the Moto to the computer using the USB cable out of the box.
Click the mouse over the root-windows.bat executable file from in the extracted folder contents.
You are now looking at a set of on-screen instructions to follow. All you have to do is do what the display asks.
Super! You are now rocking a rooted original Moto X with the latest Android Lollipop software update. You can install BusyBox from the Play Store and then check out some custom ROMs and rooted applications while you are there.
Related Posts