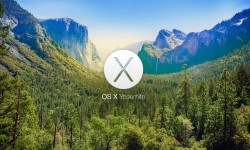 Most of you are already aware that Apple is naming their operating systems after places throughout California of late. It started with mavericks–a popular big wave surfing destination–and is now heading back on land to the "Yosemite" National Park. Well, if you are running Yosemite OS on your Mac there's a new security update available for you. The fruit company and labeling this one as important so it's best you update when you can and don't leave it until later. There are a few different ways you can go about installing Security Update 2015-003 1.0 in OS X. Here's how to do that.
REQUIREMENTS
1. You should first take a backup using Time Machine before going ahead if there's important data you don't want to lose. You shouldn't lose the data by updating the software unless something goes wrong, but it's better to be safe than sorry.
2. Those people who have their own preferred method for backing up the data can do that before starting instead. As long as you store the data so it's safe.
3. There are many different versions of OS to run from Mac. Only install the update on the 10.10.2 version of Yosemite and no other.
OFFICIAL CHANGELOG
Security Update 2015-003

• iCloud Keychain?Available for: OS X Yosemite v10.10.2?Impact: An attacker with a privileged network position may be able to execute arbitrary code?Description: Multiple buffer overflows existed in the handling of data during iCloud Keychain recovery. These issues were addressed through improved bounds checking.?CVE-ID?CVE-2015-1065 : Andrey Belenko of NowSecure

• IOSurface?Available for: OS X Yosemite v10.10.2?Impact: A malicious application may be able to execute arbitrary code with system privileges?Description: A type confusion issue existed in IOSurface's handling of serialized objects. The issue was addressed through additional type checking.?CVE-ID?CVE-2015-1061 : Ian Beer of Google Project Zero
HOW TO INSTALL THE LATEST SECURITY UPDATE 2015-003 1.0 FOR MAC OS X YOSEMITE BUILD 10.10.2. 
Option 1:
1. The Mac comes to you with a built-in update options. We recommend trying this out first.
2. To do that head to Apple menu > App Store > Updates tab and wait for the results. It should come up with the latest update for you to install.
Option 2:
1. Some users prefer installing the files manually. Doing so comes with some risk because there are multiple files and you don't want to install the wrong one.
2. You can follow the links through from the official Apple website for more details on the links and what's inside.
3. Download the security update 2015-003 for general Mac here.
4. Download the security update 2015-003 2015 mac computers here.
Related Posts