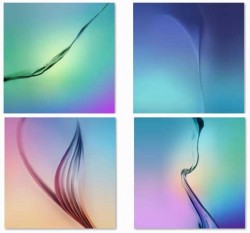 Samsung's flagship handset had a disaster year last year during 2014, but they are looking to turn it all around this year with the Samsung Galaxy S6 and the S6 Edge. That will all start with the exterior design since last year's head of the design team got the boot after coming up with the bunch of dots that didn't sell very well. Of course, there's other aspects that can change how a device is perceived also. When we look at stock renders or press shots of new Samsung devices we also see a stock wallpaper on that photo much of the time. Every year Samsung and other OEMs bring in a new range of stock wallpapers specifically made for that device; they look great and are made to fit the size of the screen better than any other.
The Galaxy S6 sports a 5.1-inch display, Android 5.0 Lollipop with the new material design UI, Android RunTime replaces the Dalvik system for better performance, 1440 x 2560 pixels resolution, 577 ppi pixel density, Super AMOLED screen and more. The camera is 16 megapixels from the rear-facing snapper and 5 megapixels on the front.
Moreover, the Galaxy S6 Edge sports a 5.1-inch display but with no sides on the phone. Instead, it has extra display panels running down the sides. It too comes with Android 5.0 Lollipop, the material design flowing through the user interface and the same resolution, pixel density and camera specs.
Well, if you want to install this year's Galaxy S6 or S6 Edge wallpapers on your Samsung device or any other device for that matter, you can do that by downloading the direct link below.
HOW TO DOWNLOAD AND INSTALL STOCK SAMSUNG GALAXY S6, S6 EDGE WALLPAPERS 
1. Download the stock wallpapers from here.
2. Check your devices photo gallery for the new wallpapers.
3. Tap your finger over the wallpaper you wish to have on your display background.
4. Now open it for the full-HD size, and select to save it as the wallpaper.
You are now loaded with the official stock wallpapers for Samsung Galaxy S6 Edge and the Galaxy S6.
Related Posts