You can select Firefox tab options by right-clicking a tab. That opens a context menu which includes a few options. To expand the tab options on that menu, check out FoxyTab.
FoxyTab is an extension you can add to Firefox from here. After adding this extension to Firefox, right-click one of the tabs. You'll find that the menu includes a FoxyTab submenu.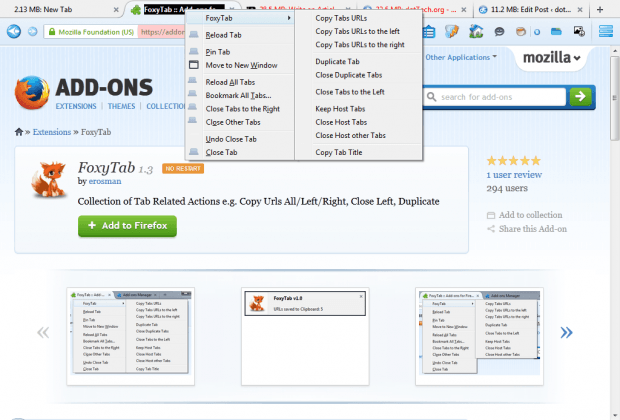 The submenu has handy tab options. For example, you can copy the URLs of tabs. Click Copy Tabs URL on the menu to copy the URLs of all open tabs. Then you can paste those with the Ctrl + V hotkey. Alternatively, you can also select to copy tab URLs to the left or right of the selected one.
You can also copy the tab titles. Select Copy Tab Title to copy the tab's title. Then paste that with the Ctrl + V hotkey.
In addition, there's a Duplicate Tab option. Select that option to open a duplicate tab. Select Close Duplicate tabs to close the duplicated tabs.
You can close all the tabs from the same host at once. So if you have lots of tabs open on the same site, you can close all of them. Click Close Host Tabs to close all the tabs from the same host website. Alternatively, click Keep Host Tab to keep all the tabs from the same website open but close all the other sites.
Those extra Firefox tab options will come in handy. It should work on most versions of the browser from Firefox 17.0 onwards.
Related Posts