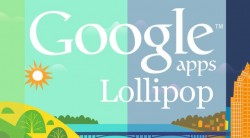 So you like to install custom ROMs after gaining root access but you hate the fact you lose all the Google native apps that were pre-installed on your smartphone? There's a simple solutions for that problem: flash the Google Apps (Gapps) package on your device just after flashing the custom ROM and you'll have your new unofficial ROM and the usual Google services like Gmail, Google Docs, Google Voice Search, Google Music, Google backup, Google Play Store, Google Maps, YouTube, Google Search and many more.
REQUIREMENTS
You'll need a computer, a small amount of storage space on that computer, a USB cable for the Android device of your choice and the device itself to follow this guide.
We recommend backing before flashing anything to your smartphone or tablet just to be safe. Those of you installing ROMS at the same time will probably be guides to do that anyway from the source page you came from.
HOW TO DOWNLOAD GOOGLE APPS FOR CYANOGENMOD 12 CM12 LOLLIPOP
Download the Google Gapps pack from here.
You want to download the above file to the desktop.
Now connect the Android device of your choice to the same computer and transfer the file over (do not unzip the file).
Completely power down the device (usually by holding down the Power button for 15 seconds).
Boot the same Android device back up again, only this time to recovery Mode by pressing the button sequence.
– recovery mode can change depending on your device so you'll need to Google search how to do that for your device name.
Once in Recovery, search the main menu for the "install Zip from SD card" option, followed by "choose zip from SD card' and search the internal storage for the Gapps file you transferred from the computer.
Confirm you wish to flash that and you're done.
That's it! Now you have Gapps flashed on your device. It's best to flash your custom ROM first, followed by the Google Apps package. that's the way most guides will tell you to do it also. If you have landed on this page directly from installing a custom ROM you can go back and follow that guide and use the Gapps from this page.
Related Posts