In another post, I told you about the Open in Google Chrome extension that enables you to export Firefox tabs to Chrome. OperaView is a comparable add-on for Firefox with which you can open selected tabs in Opera. The extension adds an option to the browser's context menu that you can select to open the page tab in Opera.
Open the OpenView page on the Mozilla website to add this extension to Firefox. Then open a page tab to export to Opera. Right-click on the page to open the context menu, which will now include a View This Page in Opera option.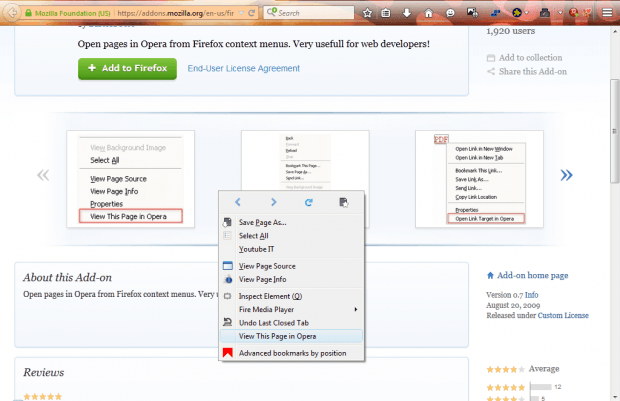 Select that option to open the page in Opera. That will launch Opera and open the page in the browser. Note that this only opens the selected page, and you can't export multiple tabs to Opera.
If the page doesn't open in Opera, or you have alternative versions of the browser, click Firefox's Open menu button and select Add-ons. Press the Options button beside OperaView to open the window below.
In that window you can enter an Opera path. Press the Browse button and select the Opera browser to open Firefox tabs in. Click OK to close the window. The View This Page in Opera button will then open Firefox page tabs in Opera.
So with this add-on you can now open Firefox page tabs in Opera by selecting an option directly from the context menu. That's a handy shortcut for Web developers, and anybody that uses both browsers, who might need to open pages in Firefox and Opera. You can find extra details at the OperaView website.
Related Posts