Multiple desktops is one of many big new features coming to Windows 10. People sometimes wonder why it took Microsoft so long to bring this feature to Windows while MAC OS X and Linux have had it for years. In Windows 10, you're able to create multiple desktops and interact with them in different ways, such as moving a window between desktops. In this short tip, I'll show you a setting that might help your Taskbar look better organized in multiple desktops environment.
When you have multiple desktops open, your Taskbar can be organized in two ways. First, it can show the buttons of all windows that are open in all desktops. That means the Taskbar would look the same regardless which desktop you're in. The other way is to show only the buttons of windows in that particular desktop.
So there's a setting in Windows 10 you can change to customize your Taskbar for multiple desktops.
Type "Multitasking" into the search box on the Taskbar. Then choose the first result.
In Settings window, you will see the section "Additional desktops." There's a line reads, "On the taskbar, show windows that are open on." You will need to hit the drop-down menu and select which way you want the taskbar to display buttons for open windows.
And that's all.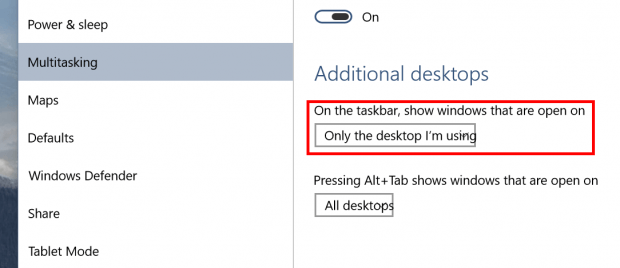 Personally, I prefer the second way of this setting because I don't want to see windows from other desktops; it would confuse me all the times. Especially now when small-screen Windows tablets are becoming popular, it's better not to make the Taskbar look messy with all kinds of buttons on it.
Related Posts