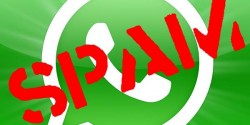 The most popular messaging app that doesn't come stock with any smartphone or tablet, WhatsApp, is no stranger to spam. It has over 800 million messages sent everyday and within that 800 million are a number of people doing what they can to scam a dollar or information out of innocent people so they can attempt to benefit from that. In an effort to help fight spam, the app welcomes people to report the spam which helps take it away quicker. Even though users are held down with restrictions such as you can't send a large amount of messages at once, it doesn't stop people from sitting behind their devices and trying to scam people the long and hard way.  If you are subject to any offers that sound too good to be true like "reply to collect your million dollar cheque" and so on, you should report that to help stop others falling victim of these scams.
The WhatsApp messenger has a new software update available  that comes with a feature for people to report the spam easily and also stop and block that spam from messaging you again.
Here's the steps you need to take to help fight WhatsApp spam:
HOW TO REPORT WHATSAPP SPAM
Turn on the mobile device of your choice that is running WhatsApp, or the device you want to use the app on.
– if you do not have WhatsApp you yet can download it from your dedicated app stores.
Head to the Google Play Store/App Store and download the latest version of WhatsApp.
Open the message that contains the spam.
Tap the "report spam and block" button.
Now that you've followed the steps you will immediately block that user's ability to send you anything and eventually someone from the WhatsApp team will see your report and hopefully remove them from the app.
Related Posts