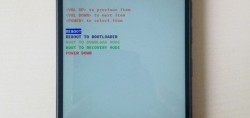 The HTC One M9 smartphone has a bootloader just like all its predecessors in the M8 and M9 handsets. The bootloader is a series of code that boots before the operating system starts to run. If you are into hacking or 'rooting' Android, then you must unlock the bootloader. However, the bootloader mode is another menu that's available. The biggest change this year in the bootloader menu is that the M9 Download Mode is changed to Fastboot mode.
Correspondingly, users could access Download Mode (now Fastboot Mode) and recovery from the Bootloader menu. The button combination to enter the Botloader Mode in earlier years was Volume Down + Power keys held down at the same time, but now those keys are used to access the new fastboot Mode menu. use the short guide below to find out the key combination to enter Bootloader Mode with the new M9:
HOW TO BOOT HTC ONE M9 IN BOOTLOADER MODE
Completely power down your M9 by holding down the Power key for over five seconds.
Press and hold the Volume Down + Volume Up + Power keys at the same time and hold them in until you reach the Bootloader Mode.
That's it! Now you can see the software status at the top of the screen, information stating if it's locked or unlocked, if S-On or S-Of and the usual options beneath that for booting to Recovery, booting to Download Mode, rebooting to Bootloader or using the Power Off option.
Related Posts