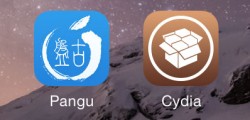 If you own the iOS 6 or iPhone 6 Plus you might want to downgrade back to iOS 8.1 and jailbreak that since no third-party developer has a public jailbreak for the latest iOS 8.3. Both iPhone 6 devices can use this guide, as well as anyone with almost any other device in the fruit companies line-up. You can view that full list below.
REQUIREMENTS 
You must have one of the following devices:
iPhone 6, 6 Plus, iPhone 5s, 5c, iPhone 5, iPhone 4S
iPad Air 2, iPad Air (original), iPad 4, iPad 3, iPad 2
iPad mini 3, iPad mini 2, iPad mini
iPod touch 5G
BEFORE WE BEGIN 
You must have a Windows operating system to jailbreak iOS 8.1 with Pangu. You are downloading Pangu to Windows and then plugging in your device to the same computer and running the jailbreaking tool.
Update: It's now also available for Mac. The link for that is in the guide. Choose which link you prefer.
We recommend backing up the current data on your Apple device with iTunes or iCloud. You can trust Pangu as it's a legit tool, but occasionally something happen and that might require a factory reset. Doing so will wipe the data and you will need to restore that from a backup.
Allow Pangu in the firewall if you are running that security feature on the Windows OS. It must access the internet where it will briefly download some files. There's nothing malicious going on here. Remember to enable that firewall after you finish so that you are protected after leaving.
HOW TO JAILBREAK IOS 8.1 ON IPHONE AND INSTALL CYDIA
Download Pangu for Windows or Pangu for Mac to the computer of your choice.
Turn on the iPhone, iPad or iPod touch and enable the Airplane Mode.
Now disable the passcode from the Settings.
Lastly, please disable the 'find my iPhone' feature.
You can enable each of the features again after you finish the guide.
Sometimes jailbreaks can interfere with some features. By disabling both of the above options, you are eliminating any potential problems.
Connect your device to the computer where you downloaded the Pangu program with the USB cable.
Launch the Pangu tool you already have downloaded to the desktop.
Wait for the tool to detect your device and then click the large blue button to begin the jailbreak.
Wait until it finishes flashing to your device, it can reboot several times. Pay attention to the screen if it asks you to do something so you are not waiting extra time.
You have a progress bar as your device is having the jailbreak applied. If it gets stuck take a look on the screen for any instructions you might need to complete.
When done, unplug from the computer and check your list of apps for the Cydia logo. Tap to open Cydia and you're away!
Related Posts