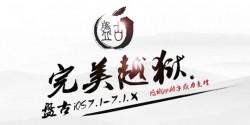 Even though the iPhone 6 is by far the hottest iPhone out there today, many people still have secondary iPhone's sitting on their shelves which are great for hacking and checking our jailbreaks. There's no limit to what you can do with your older devices, you can still get Cydia and all the cool tweaks.
REQUIREMENTS
You can follow this guide on any of the iPhone 5 range of devices including the 5S, 5C and the iPhone 5. Do not try to follow this guide if you have the latest iPhone 6. The iPhone 6 came out with iOS 8 anyway, so you shouldn't have that issue unless you manually downgraded.
You want to check that you are running iOS 7.1.2. Unlock your passcode (if you have one), tap the Settings > General > About and scroll down to where it says version.
BEFORE WE BEGIN
If you are reading this during April of 2015 or later you are probably running iOS 8.3 if you are up to date with Apple's software update notifications. That means you'll need to download the IPSW file manually for iOS 7.1.2 and flash that to your iPhone 5 through iTunes and then come back to the guide.
Backup your iPhone 5 variant through iTunes or using the cloud. Now if you need to factory reset you can restore that data easily and not lose valuable information such as your phone contacts.
Note that if you are downgrading you cannot do a complete backup so you might lose some of that data if you are wishing to downgrade and then restore data.
HOW TO JAILBREAK IOS 7.1.2 ON IPHONE 5S, IPHONE 5C AND THE IPHONE C USING PANGU
Download Pangu for Windows or Pangu for Mac to your computers from the universal link here.
Those with Windows OS must extract the downloaded .zip file.
Those with Mac OS X need to double click the .DMG file to mount it. Now drag the Pangu app to the desktop.
Launch the Pangu app on the computer for both operating systems.
Connect your iPhone 5 variant to the same computer that has Pangu running.
It will prompt you to change the time back.
Navigate to Settings > General > Date & Time and adjust the "Set Automatically" to OFF.
Now tap the Pangu icon and run the program. It tells you to back up and you aren't expected to lose data. Don't backup at your own peril.
Follow the on-screen instructions to finish running the jailbreaking tool. You can expect a few reboots before it's done. pay attention to details it's asking you on the screen or else you might be sitting there waiting for it to finish.
Related Posts