When it comes to layout and design, visual bookmarks are way more appealing because they show your bookmarks as images instead of just plain titles and links.
Speaking of which, if you're looking for a platform that works like Pinterest but only for bookmarks then you can go ahead and read the rest of this post.
How to save web pages as visual bookmarks online
First off, open your web browser and then click here to open the homepage of "Revisit.io". It's a web-based visual bookmarking tool.
Once you're on Revisit.io, sign up for a free account. Type your preferred URL name, email address and password then confirm.
After which, you're all set to log in and create your first visual bookmark.
When it comes to creating visual bookmarks, you have two options. The first option utilizes Revisit's main search and bookmarking tool. It's located at the very top of your online dashboard. The second option is via Revisit's official bookmarklet.
As for the first option, just type or paste the full URL of the site that you want to bookmark on the search/add new bookmark bar then press "Enter". Click "Create bookmark" to confirm.

After which, do not forget to put in some related tags and then click "Save tags" to confirm. Revisit will then take a screenshot of the website or web page that you're trying to bookmark and once successful, your newly created visual bookmark will automatically appear on your Revisit home feed.
As for the second option, you can just drag and place the Revisit bookmarklet on your web browser's toolbar. So whenever you visit a site or page, just click the bookmarklet to bookmark it. Add tags and that's it. Wait for your new bookmark to appear on your feed.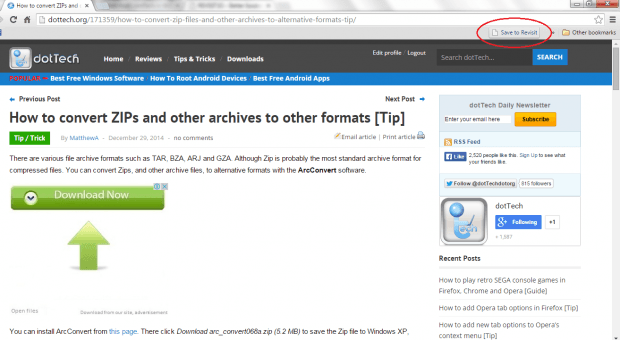 So once you have enough bookmarks, just click your profile icon or photo to view all of your bookmarked websites and web pages. Your bookmarks will appear in a grid-like layout with the website screenshots or images as the main highlight. If you place your mouse over a bookmark, you can see the tags.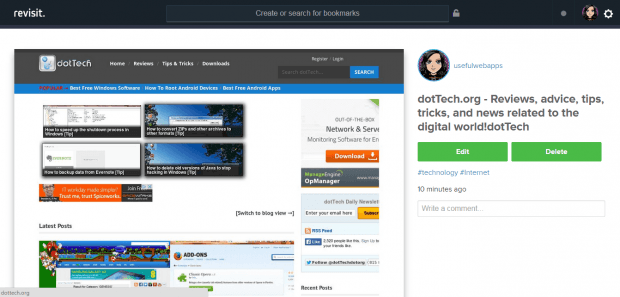 Just click the bookmark to go to the actual site or page. You can also click the "More" option to view a full page screenshot of the site that you've bookmarked.
So if you still haven't tried using Revisit.io, feel free to check it out.
Related Posts