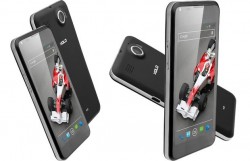 Have you already played with the Android 4.2 software on the XOLO Q3000 and are looking for something extra? Opening the ports with root access and flashing a custom recovery image, followed by a custom ROM will help with that. Check after the jump how to root XOLO Q3000 running the later Android 4.4 KitKat software update made available for this handset, plus the original stock Android 4.2 Jelly Bean that it comes with out of the box.
REQUIREMENTS
You should by running a stock version of Android that's made available from your manufacturer or phone carrier network. By navigating to Settings > About Device and taking a look at the software version should help understanding that. Check it says Android 4.2 or Android 4.4.
The XOLO OEM make a few handsets. You want to follow this guide for the Q3000 model number only. That information is also available from the About Device menu from the Settings menu.
BEFORE WE BEGIN
You should setup ADB drivers on your Windows PC. You can get those from this page. Drivers don't usually work until you reboot the computer, so it's a good idea to bookmark this page and come back to it.
Try and backup the data on the XOLO smartphone by using the built-in backup functionality or by installing apps from Google Play. Store that data on the internal SD card (normal internal memory), or up in the cloud with a Google Drive account.
Allow permissions for the USB Debugging Mode by navigating to the Settings . About Device and checking the box inside under the same name. Now you can connect to the computer and performing tasks involving the smartphone can work.
Moreover, you must enable the Unknown Sources option by navigating to Settings > Security > check the Unknown Sources box. Now you can use apps from other sources Google doesn't usually pick up.
HOW TO ROOT XOLO Q3000 ON ANDROID 4.4 KITKAT OR 4.2 JELLY BEAN
Download the MTK Droid Tools.
You ought to download the MTK file direct to the Windows PC desktop. Now hover the mouse over that file and right-click the mouse, follow by selecting the "extract here" option. Now you can use the contents of that file.
Connect the XOLO smartphone to the computer using the USB cable.
Assuming you've extracted the root file like I said in step one, it's now time to double click and run that rooting file.
Follow the short set of on-screen instructions to finish. Wait until the flashing completes before unplugging your smartphone.
You probably must reboot the XOLO manually after it's done. Upon reboot, you are ready to start flashing a custom recovery on the XOLO Q3000.
Related Posts