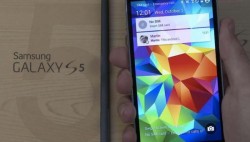 The Samsung Galaxy S5 is last year's flagship under the Sammy name. Since most people are done using the stock Android 4.4.2 and 5.0 Lollipop with the TouchWiz UI, the next step is to gain root access. Once you have the internal hardware unchained you can install some root-requiring apps from Google Play. However, if you want to think about installing custom ROMs you'll need to have a custom recovery image installed instead. There are two options for that: TWRP recovery and ClockworkMod Recovery. Today I'll show you how to install the latter (CWM) after the drop.
REQUIREMENTS
You can use any of the G900 variants available for this post. That includes the SM-G900F, SM-G900H, SM-G900P, SM-G900T, SM-G900W8 and SM-G900TI.
You already must have rooted the Galaxy S5. If you haven't done that task already, you can complete by following one of our guides from the search box.
BEFORE WE BEGIN
We recommend installing the Samsung USB Drivers on the Windows PC. restart the Windows PC after installing the drivers for them to work.
We are using the Odin app during the guide. Odin only works for Windows PC because the Samsung developers didn't make it available for any other operating systems.
You don't need to worry about your battery power too much as plugging into the computer will start using the USB charging feature.
HOW TO INSTALL CWM RECOVERY ON SAMSUNG GALAXY S5 SM-G900
Use the Windows desktop for downloading the following files:
Download the CWM recovery file from here.
Download the version of Odin you need from here.
Extract both files by moving the mouse over the file and right-clicking. Now select to extract the contents.
Completely Power down the S5 by holding down the Power button.
Reboot it back up in Download Mode by holding the Volume Down + Power + Home buttons.
Connect the S5 to the computer with the USB cable.
Now click the PDA button inside Odin and browse for the CWM file on the desktop, remembering you need to extract it to use the file inside the zipped file.
Click the Start button in Odin and that ClockworkMod recovery image is now being flashed on your S5 smartphone.
Wait until it completes and reboots the S5 before you unplug the USB cable.
That's it! Now you can easily enter that Recovery Mode by pressing and holding the Volume Up + Power + Home buttons at the same time.
Related Posts