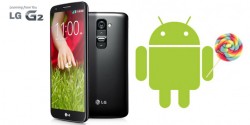 The LG G2 did have a reliable rooting method last year for most software updates thanks to the IORoot tool. However, recent software updates such as Lollipop have patched that exploit. The new way to root the LG G2 for any smartphone carrier network (including AT&T and T-Mobile) is using this One-Click rooting tool.
The new One-Click tool works a charm on Lollipop and it also works for the older Android KitKat software updates too, since at this time there's no G2 variant running any software or firmware that it won't work on. Here's how it's done:
REQUIREMENTS
You can use this guide on any LG G2 variant from any phone carrier network. Possible carriers include AT&T, Sprint, T-Mobile, Verizon and Boost Mobile in the US. It should also work for any other variant around the world.
You can have any software update that's available up until the time of writing this post including Android 4.2.2, Android 4.4.2 and Android 5.0 Lollipop.
BEFORE WE BEGIN 
Download the One-Click exploit from here. If that link doesn't work for your device come back and try the older version from here.
Enable the USB Debugging Mode. Go to Settings > About Device > tap the build number 7 times. Go back to the Settings > Developer Options > tap and mark the USB Debugging mode box. Navigate out of there and the option will stay on how we want it.
You must use a Windows PC to use this guide since the program won't work with other operating systems.
Download the LG USB Drivers. The link should be down the page. Reboot the Windows PC after installing the drivers to have them working properly.
HOW TO ROOT LG G2 ON ANDROID LOLLIPOP
Download the One-Click package from the link above directly to the computer desktop.
Right-click over that file and choose to extract the file.
Click the script.bat file from inside the unzipped file.
Now watch as the program you are about to use loads on the desktop.
Connect the LG G2 to the computer with the USB cable.
– if you have any problems with getting it to work try updating the LG USB Drivers on the PC for the smartphone.
Follow the on-screen instructions and it will begin rooting your smartphone in a jiffy.
Do not touch any buttons until it completes–it will have a progress bar across the bottom so you can see.
The One-Click too is much easier than the other method that's available, but there's also a small chance you run into the MSVCR100.dll is missing error. If you are one of those unlucky ones, you should download the Visual C++ Re-distributable on the PC and try again. All you need to know is if your PC is 32 bit or 64 bit and download the links here: 32 bit/64 bit.
Related Posts