Trello is a really good project management tool but it seems that not all of its users have fully utilized its potential. Speaking of which, one good way to add more functionality to Trello is by adding a progress bar on top of its lists. The thing is the said feature isn't available on Trello by default. In order to add a progress bar to Trello lists, you need to do the steps listed below.
How to add a progress bar to Trello lists in Chrome
Go to the official download page of "List Progress Bar for Trello" at the Chrome Web Store then click the "+Free" button to add it to your browser.
After adding the said extension to your browser, go to your Trello dashboard. Log in using Trello account first.
After which, view any of your existing boards and as you view the lists under your boards, you can immediately notice the progress bars on top of each list.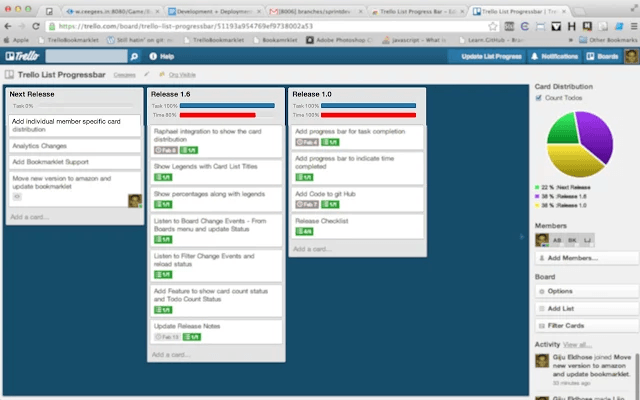 Do note that the progress bars are primarily meant to show and calculate the statistical data for each list. If you're using Trello cards as "To Do" lists, then your task accomplishments will be shown on the progress bar. If you're using cards to set deadlines, the progress bar will show the total time of your accomplished tasks and sub-projects.
Now, every time you update the contents of your lists, make sure to click the "Update List Progress" button on your Trello navigation bar. This will allow you to instantly update your progress bars according to the changes that you've made to your lists.
So that's it. Aside from adding a progress bar, the extension will also display a pie chart next to your lists to visually display the distribution percentage of your Trello cards.
Related Posts