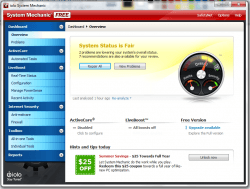 Whether you like it or not, your PC performance will gradually diminish over time. Its speed will slow down. It will encounter a lot of frustrating bugs and errors. It will also accumulate a lot of junk files. With that being said, what can you do to improve your PC's performance? If you're not that confident with your troubleshooting skills, then System Mechanic is the right tool for you. It's said to be a one-click solution for those who wish to fix and speed up their PCs.
What Is It and What Does It Do
Main Functionality
System Mechanic is a system utility tool that works with Windows XP, Vista, 7 and 8. It offers both free and paid versions. With this tool, you can automatically scan and analyze your computer for problems and unoptimized settings. It offers the following features and functionalities:
checks system status
boosts system responsiveness
blocks stability threats
automatically repairs any detected errors
fixes registry problems to stabilize the Windows system
PC cleanup – cleans junk files
optimizes write speeds and reclaims wasted RAM
wipes Internet cache and chat history
automatically accelerates startup speed
Pros
Very reliable, no adware
Easy set up (installation)
User-friendly interface
Offers multiple functionalities including performance boost, PC clean-up and system repair
Keeps a log of recent system activity
Secures computer from possible security threats
Cons
Discussion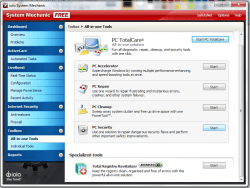 System Mechanic for Windows is a fully packed system utility tool that helps troubleshoot and fixes any known PC problems. It caters to a wide range of users plus it offers additional functionalities such as PC Security and PC Cleanup. It offers a one stop solution to your PC needs.
In order to get it working, you must first download and run the System Mechanic installer on your computer. After downloading the System Mechanic file, you will be prompted to save a copy of the installation file before proceeding to the setup process.
As for the setup process, you just need to follow the on-screen instructions and don't forget to accept the license agreement. You also don't need to worry about any hidden third-party software. With System Mechanic, what you see is what you get. It will just ask you whether to install the Pro version or the free version of the software. Do keep in mind that both versions require license keys. If you want to get a license key for the free version, you will be asked to provide and confirm your email address.
So once you're all set, just run the System Mechanic tool on your PC and then go to "Overview" to check your overall system health and security status. Just click "Start" to perform a quick or in-depth system analysis and in just a matter of minutes, you will be able to identify and fix your PC problems. That's not all. System Mechanic also offers a built-in feature called "ActiveCare" which is designed to automatically repair any detected problems including broken shortcuts, WMI conflicts and registry problems. This feature is only set to run when you aren't using your PC.
In addition, System Mechanic also offers another feature called "LiveBoost" which checks the real-time status and at the same time, boosts the overall performance of your computer by reclaiming wasted memory.
That's not all. You can also use the said tool to perform PC cleanup and remove any junk files, Internet cache and chat history. It will also help you detect whether your Anti-Virus software is actively running.
All in all, System Mechanic is a highly recommended tool for any PC user. With it, you can perform a quick or deep system analysis on your own even if you don't have advanced knowledge in Windows. It's user-friendly plus it is fully-packed with features and functionalities. It is also very stable and can definitely help you maintain, protect and optimize your computer.
Conclusion and Download Link
System Mechanic is an all-in-one system utility tool that is a must have for every Windows PC user. It is not only limited to diagnosing your PC's underlying problems, it actually fixes the problems. With it, you can save a lot of time troubleshooting your PC plus it also helps you clean up all sorts of junk and clutter. On a side note, the tool's free version is a good enough for regular use but it is only by upgrading to the Pro version that you can fully maximize its capability.
Price: Free, Pro – $39.95
Version reviewed: 14.5.2.29
Supported OS: Windows XP (Service Pack 3), Vista, 7 and 8
Download size: 45.45MB 
VirusTotal malware scan results: 0/56
Is it portable? No
Related Posts