To prevent phishing attacks, a user should always be watchful every time he or she is prompted to log in to particular web service, app or site. As for Google account users, there's the default "Request for Permission" prompt which appears every time a site or app wants to gain access to your Google account. Usually, you will be prompted to sign-in into accounts.google.com. This is to ensure that you're log-in credentials are safe and secured.
The thing is there are times where it will be difficult for you to spot a malicious site with fake sign-in pages. They can even mimic the interface of the usual Google sign-in just to trick you into signing-in using your Google account.
With regards to this, it would be nice to add another line of defense against phishing attacks and that is through password alerts.
How to use password alerts to prevent phishing attacks in Chrome
For this, you will need to add the "Password Alert" extension to your Chrome browser.
After adding the extension, it will automatically take effect the next time you sign in to accounts.google.com.
So every time that you've successfully signed in to your Google account, the extension will have temporary access to your correct password and it will then compare your correct password to each password that you've entered in any website using a sign-in page that's not accounts.google.com.
If ever the Password Alert extension detects that you've signed in to a phishing site, it will automatically alert you that your Google account password has been exposed and is being compromised. You will then receive a suggestion to immediately reset your account password.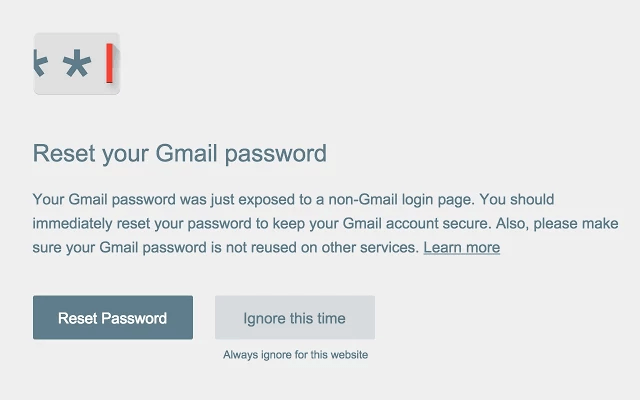 Anyways, you will be given the option to immediately reset your password or completely ignore the alert.
So that's it. If you want to further protect your Google account against phishing sites, better install this extension.
If you want to learn more about Password Alert, just read its official FAQs section.
Related Posts