If you go to sites like Softonic or CNET Downloads, you most likely won't be able to avoid downloading those software bundles. In most cases, you try to search for a specific app or software and then click the download button. Now, when it's time for you to run the installer, you end up clicking a dialog which automatically installs another app or program that's totally unrelated to your software (ex. Adware, crapware).
Now, isn't that annoying? Fortunately, there's a way for you to easily remove any adware from your software downloads. Just read and follow the steps listed below to learn how.
How to remove adware from software download links in Chrome
For this, you will need to learn how to manually add a user script to your Chrome browser first. This post will teach you how.
So what's next? Click here to download and save the .js file for a user script called "AntiAdware".
Now, go and select your user script file. Look for the "AntiAdware.user.js" file on your computer.
Open the user script manager icon on your browser and then click "Add new script".
Drag and drop the AntiAdware file to the new user script field and don't forget to click "Save".
Close your user script manager and try to download any software from a particular site (ex. Softonic, Filehippo, Ziddue, Adobe Flash Player, etc.).
For example, if you download the Adobe Flash Player, the download page will also let you download the McAfee Security Scan Plus utility tool. With AntiAdware, this part will be totally skipped so you can just download the software that you need – nothing more, nothing less.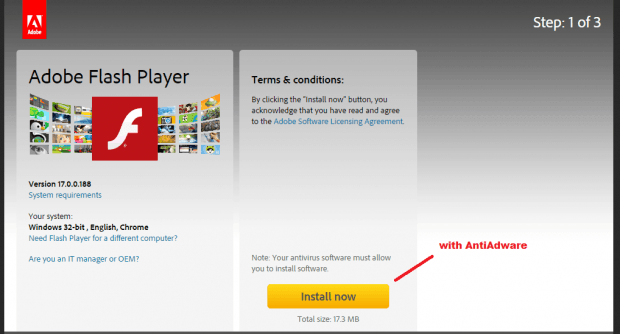 Just take note that this user script won't be able to remove adware that comes together with the actual software installer. So you still need to make sure that the software that you are downloading is safe and legit.
As a side note, you may also add the AntiAdware user script to Firefox, Opera, Safari and Android.
Related Posts