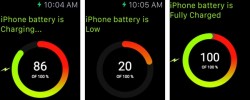 The Apple Watch is about the only wearable technology I've seen any news in the past week and I'm tipping the outlook to be similar. If you are one of the lucky people with enough money to slap the Apple Watch around your wrist, you might want to check out some hot tips to try. Today I'll show you how to look at the iPhone battery level from the Apple Watch face.
REQUIREMENTS
You need to have a compatible iPhone to go with the Apple Watch and of course the smartwatch from the fruit company.
The Battery Monitor app is available from the App Store free of charge for now, but the developer says it might not stay that way for long. You might need to purchase this app if you are reading this in the future.
HOW TO LOOK AT IPHONE BATTERY FROM APPLE WATCH
Download the "Battery Monitor" app.
You will be presented with a welcome message. It says you can now remotely access the battery level of the iPhone, followed by "tap this icon on the Apple Watch".
If you continue to read down the front page you'll see a mention for the "Glance" option and how to enable that mode to allow you to check quicker.
To do that, open the Apple Watch application on the iPhone.
Go to My Watch > Glances and enable it that way.
Once enabled, the app will display on your watch face.
Look at the screen for the percentage in the middle of the display and a red, yellow and green ring around the outside which symbolizes the charge amount.
Related Posts