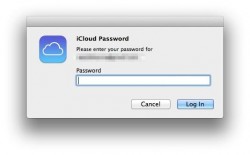 When setting up a brand new Mac computer, users will have the choice of if they want to allow an iCloud password to password protect the computer with that login code. Sometimes when we are anxious to gain control of our new toys we make quick executive decisions on options such as the passcode and assume we'll deal with that later if we change our minds. Well, if that later is now for you and you want to take off the iCloud password on your Mac machine, you can easily do that by following our guide below. Here's how it's done:
HOW TO TAKE OFF THE ICLOUD PASSWORD FOR MAC
1. Turn on the Mac and navigate to the Apple menu.
2. Choose the "System Preferences" option.
3. Select the "Users & Groups" option, followed by clicking over the password you want to take away.
4. Now click on the "Change password" option.
5. The next screen gives you two options: change the current iCloud password or stop using iCloud and create a separate password instead. Choose the latter option.
6. Choose your new password from the next screen and confirm the same.
That's it! Now every time you log onto your Mac computer you must enter the new password and that password is not stored in the iCloud.
There are still several great options out there for Mac users when it comes to saving passwords. The Apple iCloud and keychain only started getting popular over the last year or so. However, there are more ways that are great options that have been around longer such as using 1Password. Recent scandals online with A-list celebrities online getting hacked and having personal photos revealed have left many overly paranoid about the cloud and they just want to get out of there. While that might not be necessary for you do to so in situations like this, it's great there is a simple solution for you to use and stay away from iCloud if you wish.
Related Posts