Meta tags enhance website SEO (search engine optimization). They are the text that goes under page URLs on search engines. As such, they provide brief details for the page content. You can quickly add the tags to website pages with the Meta Tag Generator tool.
Click here to open the Meta Tag Generator tool in the snapshot below. It includes various fields for you to fill out. Most of the fields are optional, but the more you fill out the better.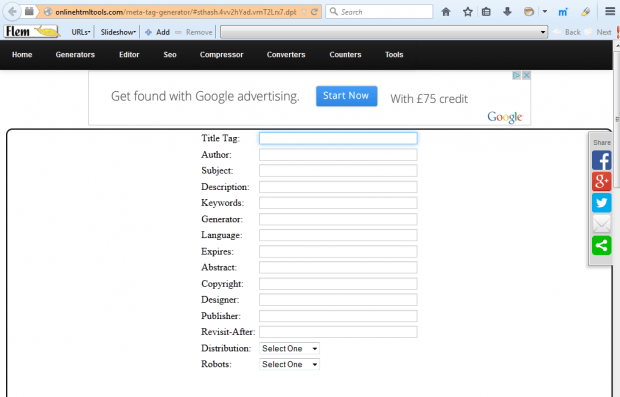 The more essential fields are perhaps the Title, Keyword and Description text boxes. Enter a suitable title for the meta tag and the description for the page below that. The page description should be relatively short, and provide details as to what the page includes. In the Keywords field you can define some keywords for the search engines.
Below that there are less essential fields that you can include in your meta tag. For instance, in the Abstract text box you can enter the three more relevant keywords in the page you added meta tags to. The Revisit-After after field defines how many days search engine spiders should revisit your website. The page also includes a Robots drop-down list with which you can add a robot tag. That tells the search engine spider which pages to index.
When you've entered your meta tags in the fields, press the Generate Meta Tag button. That will generate the meta tag code as below. Press Select All and the Ctrl + C hotkey to copy that code, which you can then paste into your page's HTML with Ctrl + V.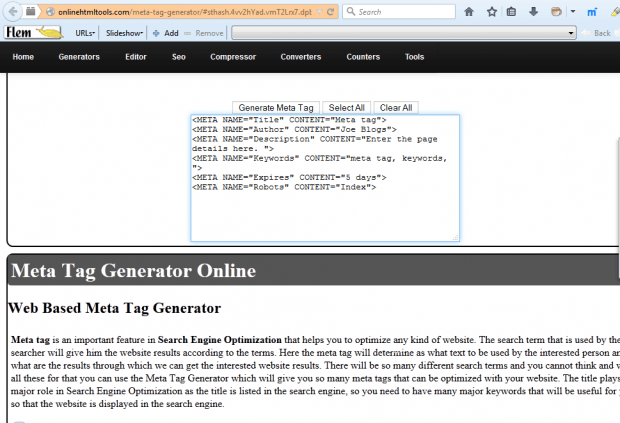 With this tool you can now quickly set up a meta tag for your website pages. Those meta tags will provide some extra details for your pages on the search engines and boost their SEO.
Related Posts