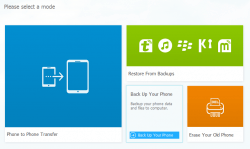 Backing up your phone can be quite a hassle especially if it does not have a built-in data manager. Of course, there are apps that you can use to back up your contacts, call logs, messages and apps. The thing is you need to use separate apps for different file or data backups. With regards to that matter, what if you can do it all in just one place? What if you can back up and transfer your phone data to another phone or keep a backup file on your PC regardless if you're using Android, Nokia, BlackBerry or iPhone? Well, in that case, you might find Wondershare's MobileTrans software quite useful.
What Is It and What Does It Do
Main Functionality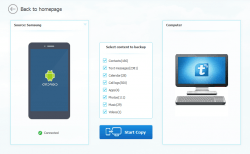 So what is MobileTrans? It's basically a software for Windows and Mac that you can use to easily transfer or create a backup of the data that you have on your phone. It supports multiple platforms including Android, iOS (for iPhone), Symbian (for Nokia) and BlackBerry OS. It is also compatible with different phone brands and models including Samsung, Nokia, LG, HUAWEI, Motorola, HTC, etc. With MobileTrans, you can back up or transfer call logs, contacts, messages, calendar, photos, music, videos and apps. With it, you can also initiate the following actions:
Phone to Phone transfers
Restore from Cloud Backups (supports iTunes and iCloud)
Back up from phone to computer (Windows/Mac)
Completely erase data from old phone
Pros
Easy to install (no adware or malware detected)
Offers a free-trial version
User-friendly software interface
Stable and responsive
Supports multiple devices, platforms and networks – Android, iOS, Symbian, BlackBerry OS
Offers multiple phone data backup and restore options
Offers the option to permanently erase existing and deleted data from old phone
Cons
None that I can think of – however, do note that this is a paid software. You can avail its free-trial version for 30 days only
Discussion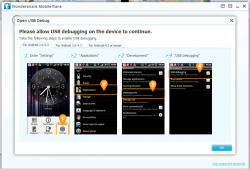 If you already have a basic knowledge on how to back up files from your phone, then you won't find it difficult to use Wondershare's MobileTrans. Its user interface is very straightforward so you'll easily know what to do after its successful installation.
The way how MobileTrans works is quite simple. First, you need to install it on your computer. You can install the said software on your PC or Mac. Just click the installer that you've downloaded from its official product page and then follow the on-screen guide.
After installing the software, launch it and then on its main screen, you will see its four main options. So with it, you can choose to back up the data from your old phone to your new phone. You can also choose create a backup file on your computer first and then have it restored or transferred to another device. If you have already created a backup via cloud, then you simply need to choose the restore from cloud option. In addition, you can also choose to completely wipe out the data from your phone. The latter option is recommended especially if you are planning to sell or give your phone to someone else. Do note that for each option, you will be required to connect your phone to your computer using a USB cable. You also need to enable the USB debugging option on your phone.
Now, if you choose to create a backup of your phone data and store it on your PC, you will be instructed to choose the type of files that you wish to back up. You can choose to back up your phone contacts, call logs, SMS messages, music, videos, photos, etc.
What's great about MobileTrans is that it offers a speedy and step-by-step backup process. You don't need to wait for a long time for it to finish backing up the data on your phone. Once you're done, the backup copy will be stored on your computer as a BAK file. You may then restore or transfer your data to another device at some other time.
All in all, I can say that MobileTrans is a really useful tool and it's a must-have for every phone user. What I like most about it is that it supports multiple platforms. With it, you can back up files from Android to Android, Android to iOS, iOS to Android and many more. Other than that, MobileTrans supports a wide range of phone models and brands including Samsung, HUAWEI, HTC, iPhone, Motorola, Nokia, BlackBerry, etc. What I also like is the fact that it can permanently wipe out all deleted data from your phone memory. It helps you feel secure especially if you are planning to sell your phone.
Conclusion and Download Link
If you're looking for a fast, efficient and reliable tool that can help you back up and transfer data from your phone, then the Wondershare MobileTrans is definitely a good choice. What I do recommend is that you try out its free-trial version first before you purchase the paid version. You'll basically pay $19.95 for its one-time use license but it is more worth it if you purchase the personal use license for $39.95.
Price: Free 30-day Trial, Paid – starts at $19.95
Version reviewed: 7.2.3
Supported OS: Windows XP, Vista, 7, 8, 8.1, Mac OS X 10.6.8 or later
Download size: 781KB
VirusTotal malware scan results: 0/57
Is it portable? No 
Wondershare MobileTrans homepage
Related Posts