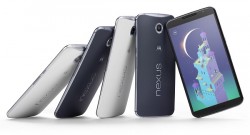 Installing a custom recovery on the Google Nexus 6 is required if you are planning to root it on the latest Android M software update since you must access the recovery to flash the files. Once you have the custom recovery image installed properly, you can then change the appearance and features by flashing a custom ROM, take better backups by taking a NANDroid backup instead of using third-party apps and install bonus apps from Google Play that otherwise weren't available.
REQUIREMENTS
We only recommend installing this version of TWRP on the Google Nexus 6 and no other device from the Nexus range. It's best to sought after a fresh guide for each device.
The guide comes with a warning that if you do flash this version of Team Win's TWRP recovery on a different device other than the Nexus 6 it may brick the device. Moreover, you are voiding the warranty by following this guide.
BEFORE WE BEGIN
Flashing custom recoveries is only for advanced Android users and shouldn't be attempted if you don't know what you are doing.
You need a Windows PC to complete this guide. Therefore, you should also update the Google USB Drivers on that same PC you are using. If you are having problems getting the connection to work, reboot the PC and try the guide again. Resetting the PC will have the drivers working.
Unlock the Developer Options menu: Settings > About Device > tap your finger on the build number 7 times.
Enable the USB Debugging Mode: Settings > Developer Options > check the USB Debugging option. Navigate out of there and the USB Debugging will remain on.
Enable the OEM Unlock from inside the Developer Options menu.
HOW TO INSTALL TWRP RECOVERY ON NEXUS 6
Download the One-Click tool here.
Completely shut off the nexus 6 and reboot in Bootloader mode: Volume Up + Volume Down + Power keys simultaneously.
Extract the package on the desktop and you should see the root-windows.bat file inside the CF-Auto-Root-shamu-shamu-nexus6.zip file.
Plug the Google Nexus 6 into the computer now and run the root-windows.bat file. Now just follow the instructions you will see on the computer and you're done.
Now that you have the custom recovery image installed, you are ready to flash a custom ROM, take a NANDroid and root your Nexus 6.
Related Posts