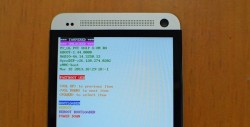 The original HTC One has a few different modes that all users can enter and not just advanced users without doing too much damage. Fastboot mode is one of these modes. Once inside, it is your gateway to performing a full factory reset. A factory reset is nothing to play with so make sure you don't hand over your smartphone to the kids in Fastboot mode. However, nearly everyone should know how to take a factory reset to keep out of trouble. Even though a factory reset doesn't completely wipe all data, it does wipe the data enough so that an average user can never have access to the data such as your old photos and text messages.
BEFORE YOU BEGIN
I suggest backing up your data because you are flirting with technology danger by accessing the recovery mode partition. It's where you can select a factory reset as an option, and if done by accident, will wipe your data from the handset. Without a backup there's no way of getting it back unless you are an experienced hacker.
HOW TO ENTER FASTBOOT MODE ON HTC ONE
Completely switch off the device.
Boot it up holding the Power+ Home + Volume Down keys.
Do not let go until you see the display turn black.
Continue holding the Volume Down key and release the Power key now.
You'll now see Fastboot Mode displayed.
From here the navigation is fairly straightforward: use the Volume Up and Volume Down buttons to scroll your way through the menu of different options.
Related Posts