The internet has helped change the way we watch movies by changing the way movies are delivered to us online thanks to some awesome streaming services. While that makes for some entertaining evenings inside without going to much effort, it still comes at a hefty price unless you are downloading some torrents. That means you probably want to check out some movie details before deciding what you are going to watch — we've been doing that for decades anyway, right?
Today I'll show you an easy way you can check out some movie details with your Mac computer using three fingers and one click of a mouse button once you've already visited the web page or document.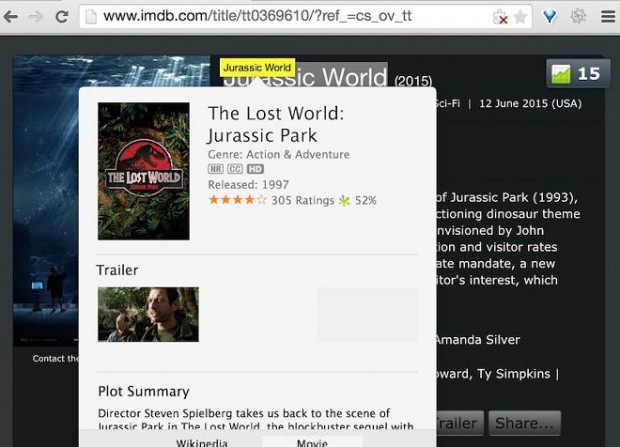 HOW TO SHOW MOVIE DETAILS IN ONE CLICK USING APPLE MAC OS X
Turn on the Mac of your choice, including any OS version and presumably the new El Capitan.
Open the IMDB website — the web's number 1 movie website for browsing movie information.
Select the movie name using the mouse cursor, followed by a three-finger click with the track-pad. Now you have the movie information on your display.
So long as the movie name registers as a word, you can click the "Movie" option at the bottom of the pop up page to bring up more movie details.
You can do the same thing using other websites or even if you find a movie name hidden in a document.
Now as long as you can put up with the abundance of spoilers in trailers, you'll have all the movie details you need before deciding what to watch this weekend.
Related Posts