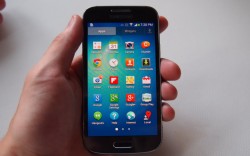 The Samsung Galaxy S4 Mini handset with model number I9195 has a new root method available running Android 4.2.2 Jelly Bean. The S4 Mini is a nice handset with a few different custom ROMs available to flash if you are into that. If not, there are still many reasons to open the system internals away from the OEM restrictions such as installing root-only applications from Google Play. Here's how to root S4 Mini LTE I9195 on Android 4.2.2:
REQUIREMENTS
There is more than one S4 smartphone so check that you have the I9195 variant from the About Device menu. Do not flash the file below if you have any other variant.
You should be running Android 4.2.2 Jelly Bean to follow this guide with confidence. We cannot be assured it works on future OTA updates since Google may patch the exploit.
BEFORE WE BEGIN 
Download and install the Samsung USB Drivers on the Windows-based PC. If you get a fail message you should reboot the PC and start the guide again. After rebooting the drivers will kick in and start working.
You might find the Developer Options menu is hidden because it needs unlocking. You can easily do that by heading to the Settings > About Device and tapping your finger over the build number 7 times.
Now that you have the Developer Options unlocked, it's time to access that menu by navigating to the Settings > Developer Options. Look inside for where it says USB Debugging Mode and check the box so it's reading as on.
HOW TO ROOT THE SAMSUNG GALAXY S4 MINI LTE VARIANT RUNNING ANDROID 4.2.2
Download the KingRoot app from the official website to the desktop of the PC.
Connect the Samsung galaxy S4 Mini to the same Windows computer that has the KingRoot file.
Transfer the KingRoot app from the desktop to the internal storage SD card without unzipping the file yet.
Unplug the S4 Mini from the computer now and install the APK file.
For those who don't already know, you should head to Google Play and search for the Installer app. Once done, you can easily install APK file. You can also use any file manager. ASTRO File Manager is a popular choice. You can also get open source file managers that are just as good and 100% free.
You should now have the KingRoot app available from the app drawer. Click to open it.
Inside the KingRoot app will be a lock icon, click the icon and it will begin rooting your handset.
You'll eventually see a confirmation alert message when it's done.
That's it! Now you're all set to start tweaking the operating system any way you see fit.
Related Posts