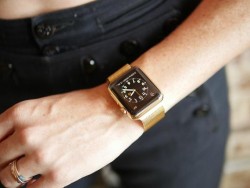 Forget features like Find My iPhone to track down your lost or stolen iPhone. Nowadays you can go to a lot less effort proving the iPhone is still somewhere within the vicinity of you. While Find My iPhone can help you locate your handset pretty much anywhere that's on the map, there's a neat trick for Apple Watch users to try if they want to try locating their iPhone's a different way. Here's how it's done:
HOW TO FIND THE APPLE IPHONE USING THE APPLE WATCH
1. Turn on the Apple Watch.
2. Swipe up on the Apple Watch face.
3. Swipe to the Settings with a right swipe.
4. Tap the "Ping iPhone" button that's centered toward the bottom of the display.
Now listen closely because the Apple Watch is pinging the iPhone to help you locate it. A unique ring is coming out of the iPhone and if it's anywhere on the same property as you, you should be able to hear it. It works even if you have the iPhone in silent mode so there's no escaping.
Related Posts