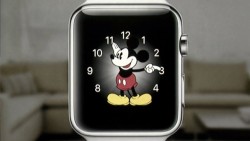 The Apple Watch took longer to launch than many had expected. Jony Ive is the main designer behind the watch, but they also had help from some of the largest fashion labels in the world to make sure the design was going to be loved. When you are making a watch that's main feature is what it can do then you are always going to have people who love or hate the design because everyone has different tastes. Apple came up with an intelligent solution to this problem by offering people a chance to customize and change the Apple Watch face. All up there are many different watch faces that are worth a look, including the X-large, Solar, Utility, Modular, Simple, Motion, Chronograph, Mickey Mouse, Color and Astronomy. Read more information on each directly from Apple's site here.
HOW TO SWITCH APPLE WATCH FACES
1. Use Apples Force Touch by pressing firmly down on the screen display (the part that tells the time).
2. Swipe your finger to the left and right to view the new Watch face themes.
3. You can also change the "complications" (features within the face) by tapping the "customize" option on the display.
4. Complete changing the watch face by tapping over the design you prefer to use.
Apple lets you chose customizing complications so your new Apple Watch face can be uniquely set up to suit your needs. Furthermore, you can save that new "complication" design by pressing firmly on the display once more, swipe to the right, press the "+" icon, swipe up or down and choose the face you want to add. Now customize the face to the way you want it and you're done. You can also delete the face you just created by using the Apple Force Touch, browsing to the face you want to delete, swipe up with your finger and tap the delete option. Now you have more space again.
Related Posts