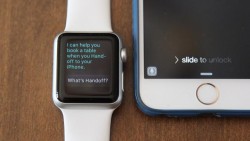 If you are one of the people who don't wish to invest in the Apple Watch because you think it's nothing more than a gimmick, you might want to check out some of the cool hidden features such as AirPlay and the one we are talking about here today called Handoff. Apple's Handoff lets users transfer content from one device to another — like the Apple Watch and the corresponding compatible iPhone — without losing anything of what you were doing. Some of you might have already used Handoff between Mac and iPhone. It's easy to understand how people might begin a task on the iPhone since it's always in people's pockets, but then they wish to finish it off later on the Mac. Well, just like that scenario, there are times when people start tasks on the Apple Watch and want to finish those off later too. Here's how to use Handoff on Apple Watch.
REQUIREMENTS
You can use handoff for the following Apple Watch apps and view them on the iPhone:
Reminders
Calendar
Messages
Phone
Siri
HOW TO USE HANDOFF ON THE APPLE WATCH
1. Launch the Apple Watch application on the iPhone.
2. Select the "General" option from the "My Watch" section.
3. Look for the "Enable Handoff" option and swipe the toggle switch to the right so it's displaying as green.
4. Now we know the Handoff feature is ready to use. Launch the messages application from the Apple Watch, or launch any other app that you wish to use Handoff so long as it's compatible. In this case, I already know the messages app is compatible so that's why I'm using it as the example.
5. The message icon will appear on the bottom of the iPhone lock screen.
6. Swipe up to open the message
Job done. Now you are ready to use any of the apps in the requirements section above and hand them over to the iPhone's display for easier use.
Related Posts