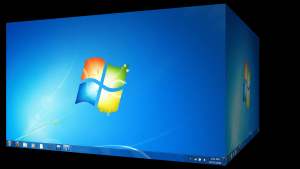 Anyone that has ever taken part in an operating system discussion (i.e. Windows vs. Mac OS X vs. Linux) must have experienced how Linux users often cite "features" Linux has that Windows doesn't. Multiple virtual desktops/workspaces is one of these features; Compiz (an "eye candy" tool for Linux) is another such feature. However, Windows users have no need to buckle down and give into the Linux madness (I say madness in the most loving and affectionate way possible). As discussed oh so long ago, Dexpot – a product of German semi-genius – is a tool that brings the virtual desktops/workspaces feature to Windows. Flash forward 19 months and a few program updates, and Dexpot is better than ever; not only does Dexpot give users the ability to use multiple virtual desktops/workspaces, but now it also mimics the 3D cube eye candy of Compwiz. Be prepared to be Linux-ified:
When it rains, it pours because Dexpot not only brings the 3D cube goodness of Compiz, but it also integrates with Windows 7's Aero peek switcher, allowing users to easily switch between virtual desktops:

If you aren't fortunate enough to be on Windows 7 (my sincerest apologies — especially if you are on Vista), you'll have to use the system tray icon to switch between virtual desktops.
Do take note, however, you must enable the 3D cube effect via Dexpot's system tray icon (right click –> "Plugins and Extras" –> check "Dexcube" box); and if you are on Windows 7 and Aero peek wasn't automatically enabled, you will need to enable that from the same screen.
Dexpot has a whole bunch of other cool features, such as creating custom commands involving mouse clicks on window title bars, that this article doesn't cover; Ashraf's previous article discusses many of these cool features, so be sure to read that if you are interested. I just wrote this article to say: Dexpot is cool! Give Dexpot a try (if you haven't already) — it will help improve work ethic (virtual desktops help you keep focused), increase efficiency (see previous point and relate), and make your computer look be futuristic.
Version reviewed: v1.57 Build r1394

Supported OS: Windows XP/Server 2003/Vista/Server 2008/Win7

Download size: 3.9 MB

License limitation: Free for "private use" only

Related Posts