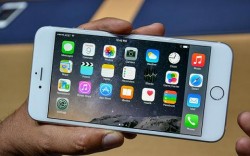 While it's always fun to fork out extra spending money on your favorite smartphones such as the Apple iPhone, often people want to limit their spending once they're finally in ownership of the device. One of the main threats to creating a higher phone bill is going over the mobile data allowance. By applying a simple data reset, you are able to check that you are staying within your data plan boundaries and thus not going over the monthly limit.
HOW TO APPLY A SIMPLE RESET TO THE IPHONE DATA USAGE STATS
1. Turn on the iPhone of your choice.
– note that the navigation may vary slightly depending on how old your iOS software is. Likewise, you might notice differences if you are reading this in the future. We are using iOS 8 for this guide.
2. Lunch the Springboard after unlocking the postcode.
3. Tap on the Settings icon.
4. Launch the Cellular option from inside the Settings.
5. You can notice several options from inside the Cellular tab, including the current period and the lifetime.
6. Scroll down until you get to "cellular data for" and a description of each app with the data amount.
7. At the bottom of the list is an option called "Reset Statistics".
8. By clicking that button you are resetting all the data in the Cellular menu.
Resetting the iPhone data usage stats is as easy as that! Now you can refresh and view everything starting from scratch of the data.
Related Posts