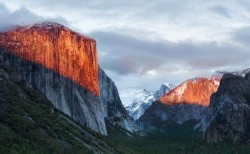 If you are using a Mac then you are probably keeping up to date with the latest OS installments. Up until last month, OS X Yosemite was the operating system of choice. Apple then launched OS X El Capitan at this year's Keynote event. While the new name sounds like it might have more to do with an Italian pirate ship than a landmark, El Capitan is a vertical rock formation located in the Yosemite national park.
Windows users are getting a free update to Windows 10 if they meet the requirements. Unfortunately the same can't be said for Mac users who will have to pay for the latest version of El Capitan. If you don't have enough money to fork out enough money to pay the fruit company for the latest OS, you can install some of the El Capitan features on OS X Yosemite instead.
HOW TO GET OS X EL CAPITAN FOR OS X YOSEMITE USERS
1. A new feature of El Capitan is the ability to mute audio tabs, AirPlay video and pin tabs. Google Chrome can help you with pinning the tabs and muting audio in tabs, but you'll need to download Beamer mute AirPlay videos. Download Beamer here.
2. Download the cool El Capitan official stock wallpaper (featured) for your Yosemite desktop. Download the El Capitan wallpaper here.
3. One of the first changes you'll see in design when switching from Yosemite to El Capitan is the new font. The font name is San Francisco and it can be downloaded and installed with ease so you can use the new font on your machine.
4. Another great feature found in El Capitan is Window Snapping. You can mimic that feature by installing the BetterSnapTool from the Mac App Store. The app isn't free — coming in just under $2 — but it gives you the same window goodness.
Related Posts