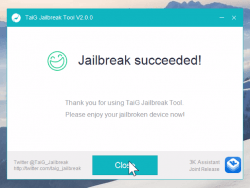 If you are searching the web for the official iOS 8.3 jailbreak, then look no further. The team from TaiG have just released TaiG 2.0 which is compatible with iOS 8.3 and is fully untethered. Moreover, the same tool works for users running iOS 8.2 and iOS 8.1.3. The great news doesn't stop there either. Since the official iOS 8.4 software update is due to release in less than a week from now on the 30th of June, it seems the jailbreak team have officially given Apple a taste of their own medicine. It's unlikely Apple developers can work on patching the current exploit TaiG used for this jailbreak in time for the iOS 8.4 release which means that you can probably update to iOS 8.4 and still jailbreak that too. As usual, you'll still lose the untethered jailbreak by installing the iOS 8.4 software update, but you should be able to install it again the same way you are jailbreaking iOS 8.3 with a Windows PC or Mac running the Windows 10 virtual assistants.
REQUIREMENTS
Devices:
You must have the iPhone 6 Plus, iPhone 6, iPhone 5S, iPhone 5C, iPhone 5, iPhone 4S, iPad 4, iPad 3, iPad 2, iPad Air 2, iPad Air, iPad Mini 3, iPad Mini 2, iPad Mini or the iPod touch.
iOS firmware:
iOS 8.3
iOS 8.2
iOS 8.1.3
HOW TO DOWNLOAD TAIG 2.0 UNTETHERED JAILBREAK ON WINDOWS PC FOR IOS 8.3, IOS 8.2 AND IOS 8.1.3
Turn on the Windows computer you plan to connect the iOS device with and download the official TaiG tool from here.
Download WinRAR if you don't have it already — it's free, just Google it.
The file will take a while to download since it's over 60 MB's.
Click the small gray arrow pointing down on the right side of the file that's above the taskbar after the download is complete.
Choose the option "show in folder".
Now drag the tool from inside the folder over to the desktop.
Right-click the mouse on the file and select the "extract here" option and the TaiG tool will be unzipped and ready to execute on the desktop.
Now all you need to do is follow the how to Jailbreak iOS 8.3, 8.2, 8.1.3 With TaiG 2.0 guide.
Related Posts