How many dotTechies use Dropbox? I use Dropbox. How many dotTechies love Dropbox? I love Dropbox. Dropbox has been featured on dotTech multiple times in the past and is definitely my go-to service for file hosting/sharing. While many of us may be content with the free 2 GB of storage Dropbox provides, it is just fun being able to stack up on free storage space. We all know one can get free storage by referring friends (250 MB per referral, or 500 MB per referral if you have an .EDU e-mail address). However, if you aren't in a position to refer people, but you would still like to horde all the Dropbox storage you can without paying a dime, there are other ways to get extra Dropbox storage for free. Did that perk your interest? If you are a Dropbox addict like myself, then I am sure it did. The following methods will earn you up to 1,018 MB of free storage on Dropbox:
Complete Getting Started quests. After you have registered on Dropbox, you can earn 250 MB of extra storage by simply completing 5 out of 6 Getting Started "quests":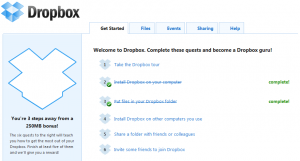 Complete all the tasks listed on Dropbox's Free page: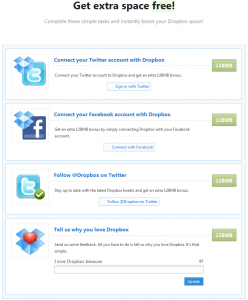 The tasks involve
Connecting to Dropbox with your Twitter account
Connecting to Dropbox with your Facebook account
Following @Dropbox on Twitter
Providing Dropbox with short feedback

Each of the above four tasks will earn you 128 MB of free storage, for a total of 512 MB. You can get another 256 MB of storage if you Tweet about Dropbox and and post about Dropbox on Facebook:

Use the extra gig of storage wisely however the hell you want – enjoy!
[via Lifehacker]
Related Posts