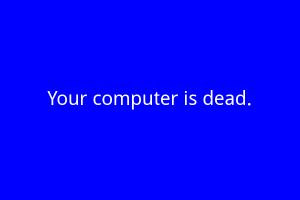 Do you know your Windows license key?  What about your Microsoft Office license key? No? Bummer – what would happen if your computer crashed?  Sure, most computers have little stickers on the side that display the Windows license key on them but those little stickers can easily be messed up and fall off (or mutilated by a three year old). WinKeyFinder is a nifty program that allows users to recover and safely store their Windows and/or Microsoft Office license keys.
Using WinKeyFinder couldn't be simpler. After you download and run WinKeyFinder (it is portable – no installation required) it will scan your computer. After the scan has completed, WinKeyFinder will provide information about your operating system version (Windows 7 Home Premium in my case), your Windows license key ("product key"), and some other housekeeping information: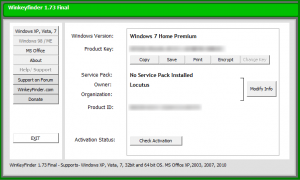 To grab the license key for Microsoft Office, you just need to click on the MS Office button and the Office product key is displayed, like magic:

While other keyfinding tools may support more programs than just Windows and Microsoft Office, the cool thing about WinKeyFinder is it does more than simply showing you the license key information: WinKeyFinder allows users to modify the data, too: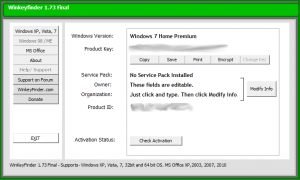 Simply type in the relevant field to change its data and click "Modify Info" to modify that particular info. It seems like WinKeyFinder also has the ability to modify Windows product key, but I can't seem to get that feature to work. Similarly, users can modify the product name and key for Office, too:

Another great thing you can do with Win KeyFinder is encrypt your product key(s).  To do this, click the Encrypt button from the Windows information screen or the Save And Encrypt button the Microsoft Office information window; clicking either of the previously mentioned buttons will bring up the encrypt window: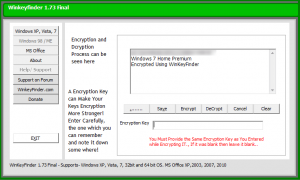 (Although the above screenshot shows Windows information in it, the same thing happens with Microsoft Office information.)
Once at the encrypt screen type in a password and hit Encrypt:
Take note that WinKeyFinder uses hash cipher encryption (not sure what algorithm in particular), so make sure to not edit anything in the textbox (you can type in the textbox, adding/removing text) after you have hit the Encrypt button; otherwise you may not be able to properly decrypt it when the time comes!
Once you have encrypted the data, hit the Save button and save the file wherever you want: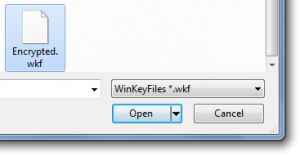 Files are stored as .WKF files, which are just simple text files, so make sure you encrypt the data before you save it, otherwise your data will be saved in plain text (i.e. anyone can read it). Also, be sure you are saving the file in a safe location which will be accessible whenever you need it.
Whenever you want to decrypt the keys, you need to run WinKeyFinder, hit the Encrypt button at the main screen, hit the …… button at the encryption screen, load the encrypted file, type in the password you used, and hit DeCrypt. After decryption, the license key saved in the file will be displayed: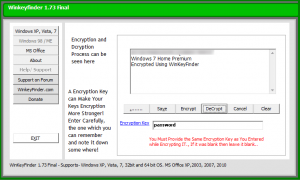 Pretty cool, huh? Sure, WinKeyFinder won't help you completely avoid disaster (you would still need installation CDs if your computer ever crashed, something WinKeyFinder doesn't provide) but it can help you mitigate the disaster by allowing you to fetch  and store your license keys in a safe place prior to a technical glitch. With your license keys stored safely and being easily accessible, you can laugh at Bill Gates' pathetic attempt to force you to buy a new copy of Windows or Microsoft Office. (However, as a word of caution, it has been known that the license keys pulled by these license key finding programs are not always 100% accurate – so don't depend on WinKeyFinder as the know all, be all. WinKeyFinder should be a last resort in case you have no other way of accessing your license key(s).)
You may download WinKeyFinder from the following links:
Version reviewed: v1.73 Final

Supported OS: Windows 98 and higher (32-bit), Windows XP and higher (64-bit), and Microsoft Office 2000 and higher

Download size: 252 KB
Related Posts