We all know that Firefox strives to keep its UI sleek and neat. The thing is it could also take away some of the features that we like just for the sake of aesthetics. Speaking of which, the version numbers that you typically see in the Add-ons Manager is no exception. As a matter of fact, it no longer appears in Firefox 41 and other newer versions (ex. nightly builds). The only way to view them for now is by clicking "More".
So if you happen to run the latest version of Firefox, do check if the version numbers are still present? If they're no longer showing up, then here's how you can restore them without downgrading your browser.
How to restore the version number in Firefox's Add-ons Manager
Open your Firefox web browser.
Next, click here to download and install the "Add-ons Manager – Version Number" add-on to your browser.
Click "Install" when prompted by the installation dialog.
Once the add-on has been installed, it will work out of the box so no need for you to configure it.
All that's left for you to do is to open your Firefox Add-ons Manager. To do so, you may type about:addons on the address bar then press "Enter". Alternatively, you may click the Firefox Menu icon and then select "Add-ons".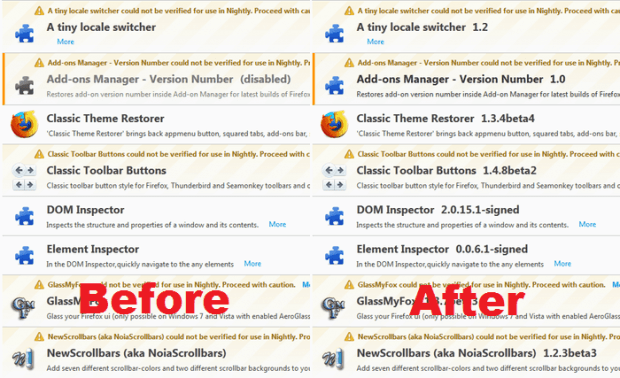 So that's basically it. You will know if the Add-ons Manager – Version Number add-on is working properly because the version numbers will be automatically restored. They will appear right beside the add-on title just like the way that they used to in older Firefox versions.
Related Posts