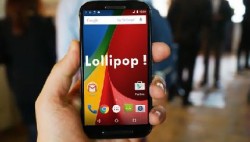 Thanks to a newly updated version of SuperSU, we now have a new way in which we can get root access to the Motorola Moto E 2015 smartphone. Android Lollipop has some superlative features, but none of them come close to the excellence found inside custom ROMs. With custom ROMs, you can advance past the software versions available from the OEM and phone carrier networks, find new features, unlock the devices hidden potential with improved performance and more.
REQUIREMENTS
You can root the 5.0 Lollipop that's available up until today, however, we cannot guarantee future updates don't patch the exploit. If that happens, you might get stuck in a boot loop and you'll need to get out of it. That's why using rooting guides are for advanced users only.
BEFORE WE BEGIN
You might need to unlock the hidden Developer Options menu so you can access it and enable the USB Debugging Mode inside. Do that now by tapping the firmware build number available from the Settings.
having to view the firmware build number from the About Device menu is useful because it forces you to look and be aware of the firmware you are on. That way you can double check you are running the right firmware before going ahead with any modifications.
You are voiding the Motorola warranty by following this guide. The main reason OEMs dislike people rooting Android is because it can create many issues with software and soft-bricks. They don't want anything to do wit hit so they don't permit it. They won't look at your device if you have root access for free. You can get it looked at if you pay for the repairs, though.
HOW TO ROOT THE MOTOROLA MOTO E 2015 RUNNING ANDROID 5.0 LOLLIPOP WITH THE UPDATED SUPERSU
Install a custom recovery on your Moto E 2015 before starting the guide.
Download the SuperSU 2.49 here.
Do not extract the SuperSU file to the desktop this time. Leave the file zipped.
Connect the Motorola Moto E to the computer and transfer the SuperSU package to the SD card (internal storage). Make sure it's the root and not inside one of the folders.
Unplug the Moto E from the computer and turn it off completely by holding in the Power button.
Boot the handset into the custom recovery mode.
Select "install" from the menu inside the custom recovery and browse the SD card for the SuperSU package.
Now confirm you want to install the file and wait until it's done flashing.
Go back to the main recovery menu and choose the reboot system option. Now you are done.
Related Posts