Are you familiar with the Pomodoro technique? It's basically a technique where you time yourself to evaluate your work performance and improve your level of productivity. You can learn more about the said time management method by going to this site.
Anyways, the Pomodoro technique often requires a timer. A simple kitchen timer will usually suffice but if you don't have one, you can install one on your browser. Speaking of which, here are the steps on how you can add and set up a simple but really effective Pomodoro timer on your Firefox browser.
How to add and set up a Pomodoro timer in Firefox
Open or launch Firefox on your computer.
Next, download and add the "Pomodoro Clock" add-on to your browser. Click "Install Now" when prompted.
Once added, the add-on will automatically add a simple Pomodoro timer to your browser's toolbar (next to Menu). Its icon resembles that of a kitchen timer.
Once you're all set to start the timer, just click the Pomodoro Clock icon on the toolbar and then set the timer to 5, 10 or 15 minutes. If you click Pomodoro, the timer will be set to 25 minutes. So after setting it up, the timer will automatically start.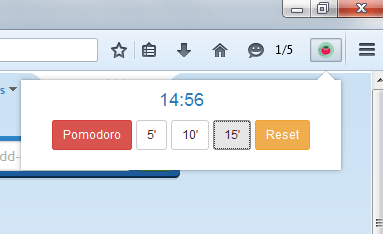 You will get a notification message on your browser when the timer is up.
If you want to start anew, simply click "Reset".
So that's it. The Pomodoro Clock add-on does not require any additional configuration so you don't really need to think about complicated stuffs and just focus on your work.
Related Posts