If you are using Google Chrome for web browsing already, you might already know about Chrome plugins and extensions that you can install to enhance your experience. Often these extensions or plugins are add-ons which offer a variety of additional features that allow us to do more with Chrome. However, when we add a new extension it usually takes away from our performance based on the simple logic that the more features we add the more load we generate for them to work. As a result, you might find the Google Chrome browser not as fast as it once was.
Google now offers an official plugin made by them called the Data Saver extension. Whenever you have something that's made by the folks out of Mountain View you are usually in pretty good hands. Correspondingly, only Google have the ability to create this tool because it works with their servers. Once you have the Data Saver extension installed, it creates a connection between your computer and one of the servers running in Google's data centers to help enhance your browsing experience. Here's how you can benefit by using the new extension:
HOW TO CUT DATA USAGE AND OPTIMIZE PAGES IN GOOGLE CHROME
Download the Google Chrome browser if you haven't got it already.
Download the data saver extension for the Google Chrome browser.
– this is currently in beta stages since it's new. It will eventually see the full release, or at least it has an excellent chance of seeing it because it's made by Google.
Click the blue button to start the Data Saver installation.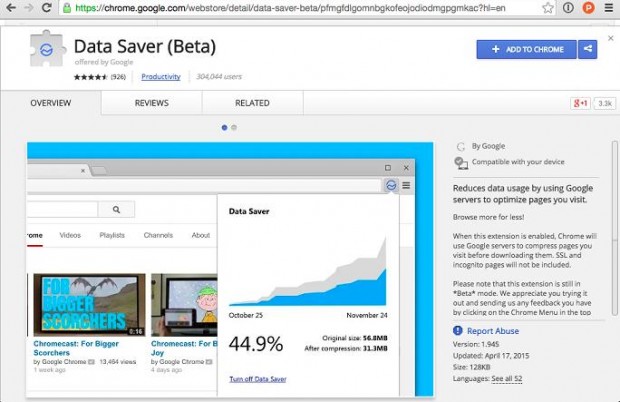 It will automatically appear in the top right side of the browser menu after it's done.
You can click the icon available to toggle the data saver on and off when you desire.
Do note that Chrome's Data Saver (Beta) extension supports both Windows and Mac platforms.
Related Posts