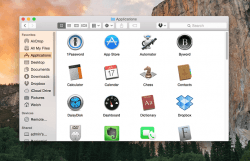 If you are using a smartphone from any OEM these days, you'd already know all about apps. You can find an app for just about anything, whether it's shopping, wanting to learn more about the weather, playing games, taking notes, setting reminders and so on. Mac users have known apps for a long time too. You might know the calendar, the compass, the address book, the dictionary and many other apps of the shareware variety. Just like with iPhone, Windows Phone and Android, Mac apps can sometimes misbehave and respond slowly. If that happens to your application, you might prefer force closing the app to start again or just get rid of it to save you time.
Apple has made it relatively easy to force close apps with just a few clicks. Furthermore, they offer a variety of ways to get it done. I'll show you the shortcuts, the long ways and everything in between. Let's start with the way using the menu. After that, I'll show you the simple mouse and keyboard tricks.
Finder Menu:
Navigate to the Apple Finder menu.
Scroll down the list and about half way down you will see the "Force Quit" option.
With the mouse:
Right click the mouse on the app icon in the dock you wish to force close.
The bottom option from the new menu that pops up is "Force Quit". Click that option and it's done.
Useful keyboard shortcuts:
Press the "Option + CMD + ESC" keys at the same time.
Press the "Option + CMD + Shift + ESC keys to quit any selected app.
Related Posts