For those dotTechies that don't live in the USA, Hulu.com is a legal video streaming service that allows visitors to legally watch many popular TV shows online (it also streams movies, but most of the movies are old and crappy). Hulu has literally changed the way TV is watched by many people, including myself – I watch TV less on an actual TV and more on my computer. The downside to Hulu is shows are not always instantly available the day they air (most are made available the day after they air, while some are made available a week after they air) and Hulu doesn't have streaming rights to all the TV shows out there. (Hulu is owned by NBC and News Corp, so most/all NBC and Fox shows are on there, but there are also some non-Fox and non-NBC shows too.) Nonetheless, Hulu is a very handy website. (It only allows USA viewers currently, blocking access for people living in other countries.)
As good as Hulu is, it has one major drawback – users cannot download videos. In other words, to enjoy Hulu you must have access to the Internet. Of course, Hulu has been designed this way for multiple reasons, with the two major ones being:
Most of Hulu's revenue is based off advertising (although it has recently launched Hulu Plus, a $7.99/month subscription service). It is kind of hard to advertise to users who are watching downloaded videos.
Downloading Hulu content could lead to the content – which is very high quality – being pirated and appearing on torrent websites.
Now, for people that do have access to the Internet all the time, not being able to download Hulu videos is not a big deal; simply visit Hulu.com and start streaming instantly. However, what if you want to be able to watch Hulu videos when you don't have Internet access? That is where Foxreal YouTube FLV Downloader comes in.
Before I go any further let me explicitly state downloading videos off Hulu (i.e. TV shows and/or movies) is against Hulu's terms of use. Obviously if you download Hulu content and pirate it or share it (i.e. place it on torrent websites for others to download) that is illegal. On the other hand, downloading Hulu content so you can view it at times when you don't have Internet access (like while traveling on an airplane) might be okay. However, I am not a lawyer; I am only providing my personal opinion. Download Hulu videos at your own risk. dotTech, nor I, are responsible for what you use Foxreal YouTube FLV Downloader for; this article is for informative purposes only.
That said, Foxreal YouTube FLV Downloader is a nifty streaming video downloading tool that allows users to download videos from many different websites; Hulu.com is one of them. I was very surprised and skeptical to find Foxreal YouTube FLV Downloader can download Hulu videos but it indeed can. (Foxreal YouTube FLV Downloader also has a Pro version – $35 – that can convert videos to different formats after they have been downloaded, but who needs to pay $35 to convert videos when you can use FormatFactory or iWisoft Video Converter.) Not only does Foxreal YouTube FLV Downloader download the videos, but the download quality is simply excellent.
Foxreal YouTube FLV Downloader works like your Internet browser (it seems to be based off Internet Explorer and/or uses Internet Explorer). You visit URLs from within Foxreal YouTube FLV Downloader and view videos; Foxreal YouTube FLV Downloader detects videos that you are viewing and gives you the option to download them: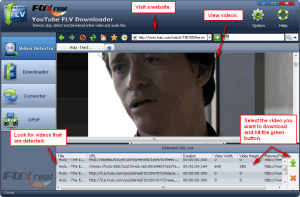 All downloading/downloaded videos can be accessed via the "Downloader" tab: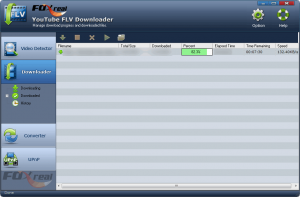 Clicking on a downloading video allows you to pause/resume the download (not all websites will allow for resuming downloads after you have stopped them), remove the download, and locate the download on your computer. Clicking on a downloaded video will allow you to view the video, remove the  video, and locate the video on your computer.
Easy enough? You can download Foxreal YouTube FLV Downloader from the following links:
Version reviewed: v1.0.1.0

Supported OS: Windows XP/Vista/7

Download size: 7 MB

Foxreal YouTube FLV Downloader homepage
Related Posts