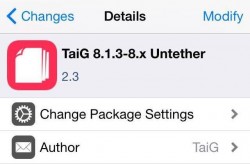 Stefan Esser was the first man to jailbreak iOS 8.4 and he did show off the jailbreak to the world. According to Stefan, the TaiG team were former students in Essers hacking class and he's been less than impressed with the way they've gone about their business. The so called rushed TaiG jailbreak released just to generate money started off with many bugs in the earlier version. We are now up to version 2.3 which comes with bug fixes and support for the new Cydia. If you are wishing to jailbreak iOS 8.4 with TaiG 2.3 you can do that after the jump.
REQUIREMENTS
You need a minimum iPhone requirement of iPhone 4S. Anything from the iPhone 4S and up works using this tool.
You should be running iOS 8.4 to use this guide.
BEFORE WE BEGIN
HOW TO JAILBREAK IOS 8.4 WITH TAIG 2.3 ON IPHONE 6, 6 PLUS, 5S, 5 AND THE IPHONE 4S
First, you need to know if you have Mac OS X or Windows running on your computer.
Those of you with Mac must follow the guide here: How to jailbreak iOS 8.4 on Mac OS X with TaiG 2.2 — the same guide works for version 2.3.
Those of you with Windows should Launch the TaiG version 2.3 tool on Windows.
Connect the iPhone of your choice to the same computer that has TaiG.
You'll see the first screen available on TaiG shows two boxes: Cydia and 3K assistant. We recommend keeping Cydia and disabling the 3K assistant. Now you'll have the usual jailbreak with the Cydia app waiting after you are done.
Click the Start button from the next screen.
Wait for the tool to jailbreak your device. After a few minutes it will complete.
Once done, you can unplug from the computer and start using Cydia tweaks.
Solutions to common problems:
Related Posts